Off Camera Flash Photography at Downhill Beach Northern Ireland
Early last week I travelled up to Downhill Beach for an evening's photography. Thanks to Lauren who did a thoroughly professional job modelling for the evening and bringing a great range of outfits. Thanks also to Rosemary and Kevin who came along.
Below is a selection of photos from the evening which were a mix of natural light, and some with off-camera flash. (Click on the photos).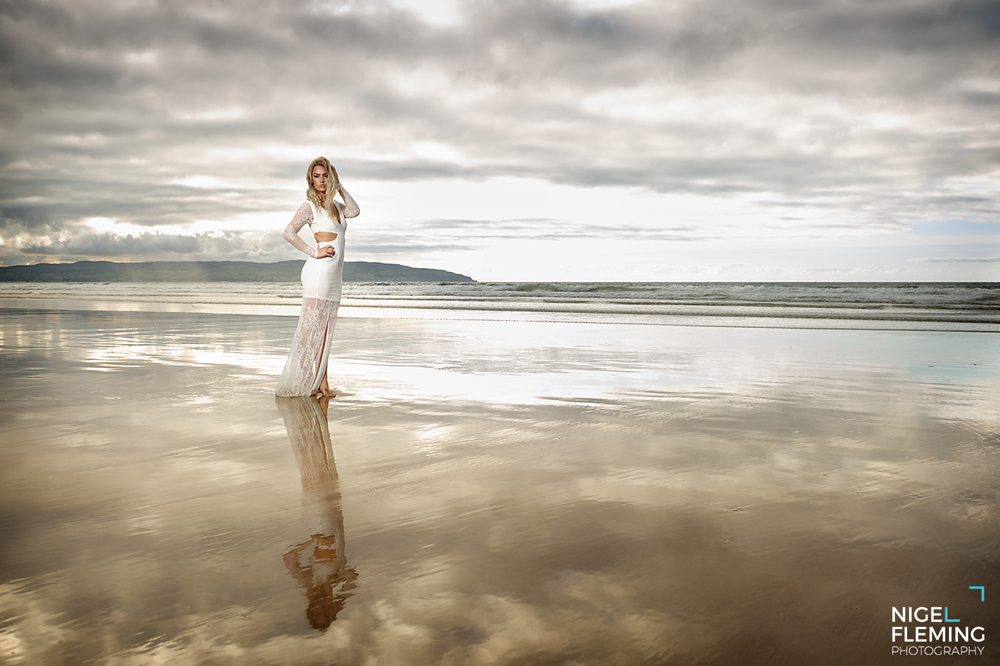 This was our first setup of the evening. There was plenty of light, though there was quite a bit of broken cloud. We headed out into the wet sand area of the shoreline to get a nice reflection in the sand. Lauren wore a white dress and as a result I wanted to create quite bright style picture. My camera settings here were f5.6 at 200th second, just barely holding the extreme highlights of the sky and water, but I didn't mind that. At these camera settings it left Lauren quite under exposed, so I added an off-camera flash to my left and set Lauren's look in that direction. I kept this wide angle at the 24mm end of my 24-70mm lens.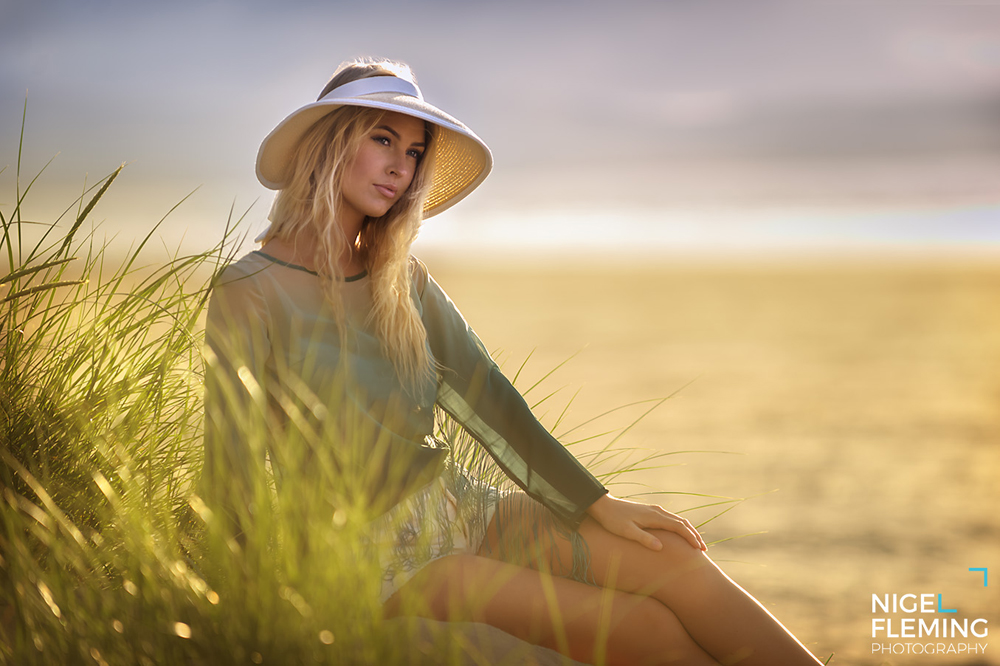 Next we headed to the back of the beach to the small sand dunes and beach grass area between the beach and the railway line. The sun came out and provided us with lovely golden backlight. For this I changed to my 70-200 lens and captured this at 200mm, f2.8 at 640th second shutter. A reflector was used from the front to fill some light onto Lauren.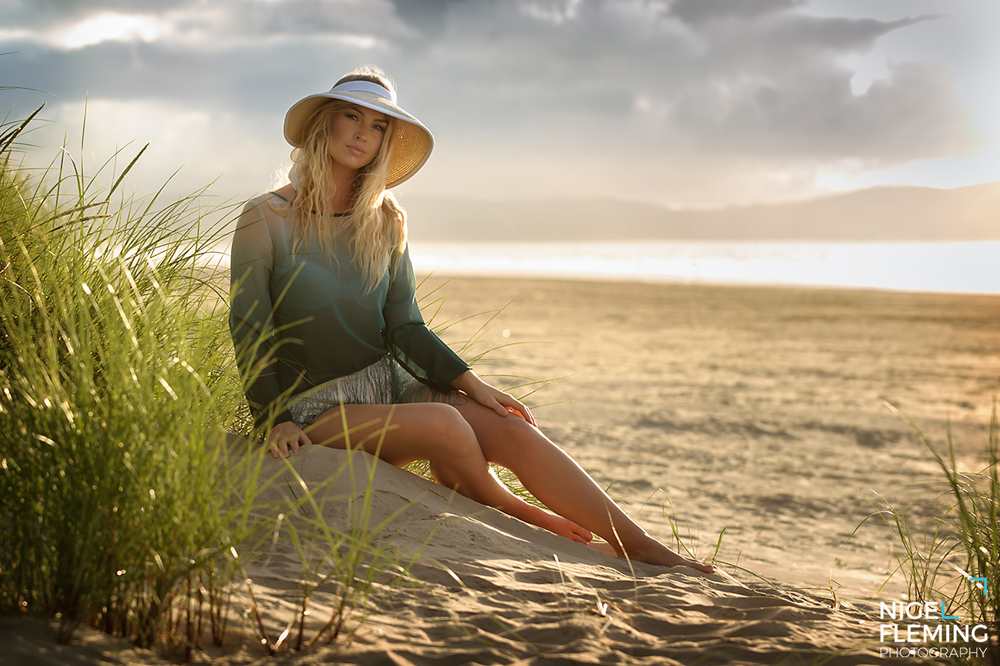 This was similar to above, but I increased the aperture from f2.8 to f4 and also reduced the zoom to around 100mm, therefore giving a bit more depth of field on this one.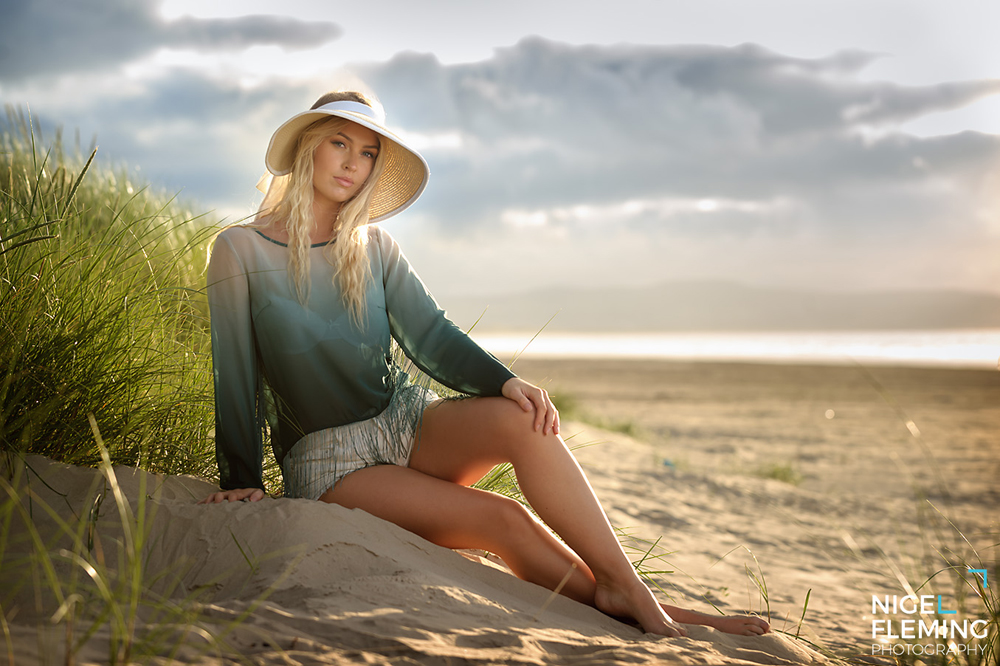 Again this is similar to above, but this time I used some off camera flash through a large soft box to my right.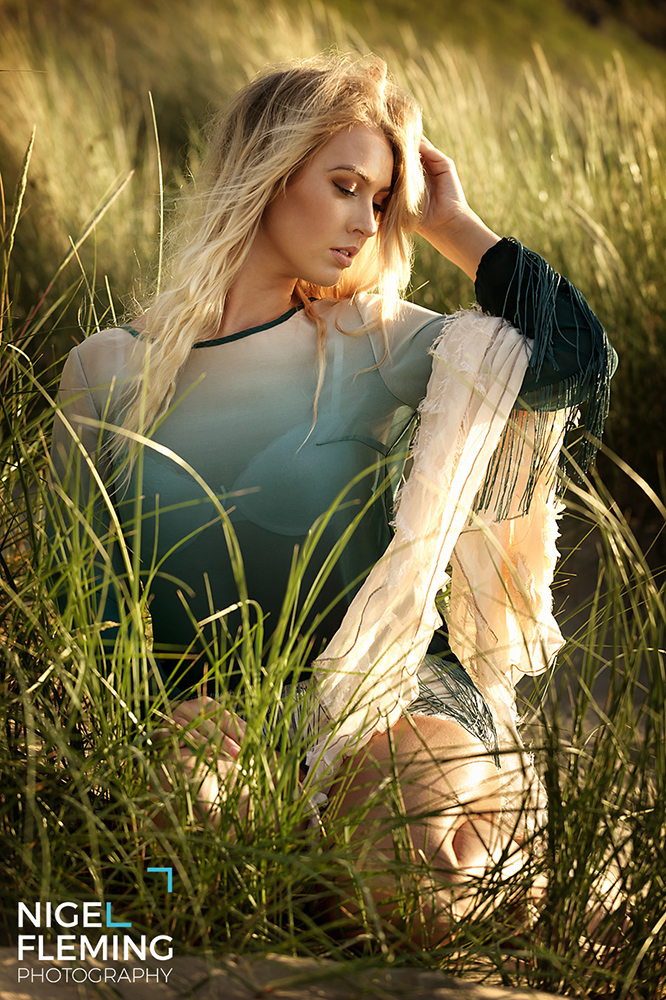 This was a slight change of position for Lauren and off camera flash was used here through a large soft box. Backlight is from the low sun behind Lauren and to my right.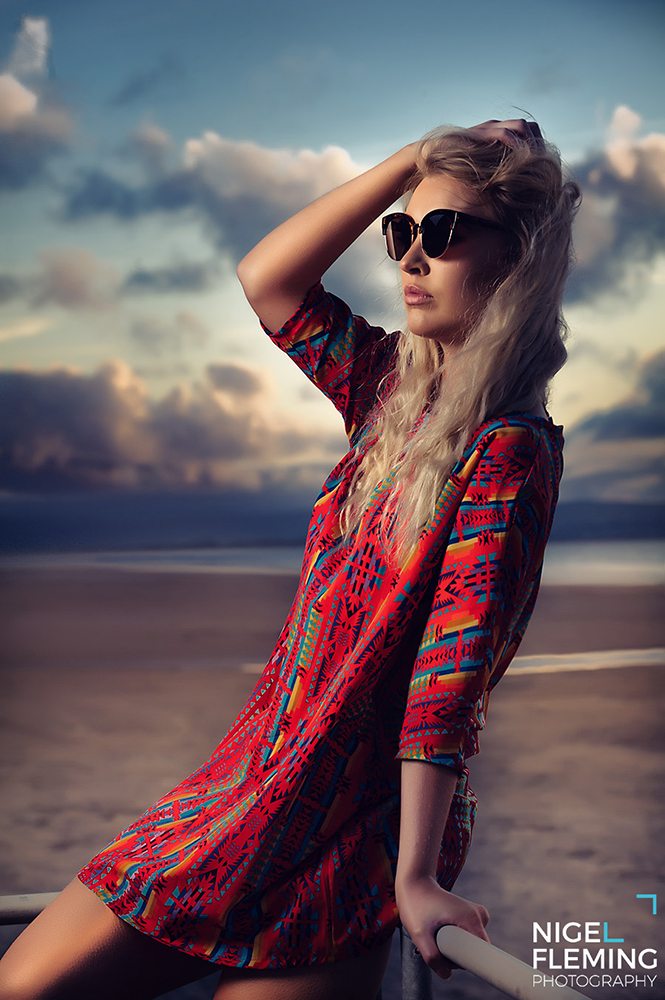 We then moved up the beach to the Lifeguards hut and used the railing around the outside of it for this one. I squeezed the off camera flash and soft box into the narrow space around the side of the hut and asked Lauren to pose and take her look in that direction. This was on my 70-200 lens and at f8.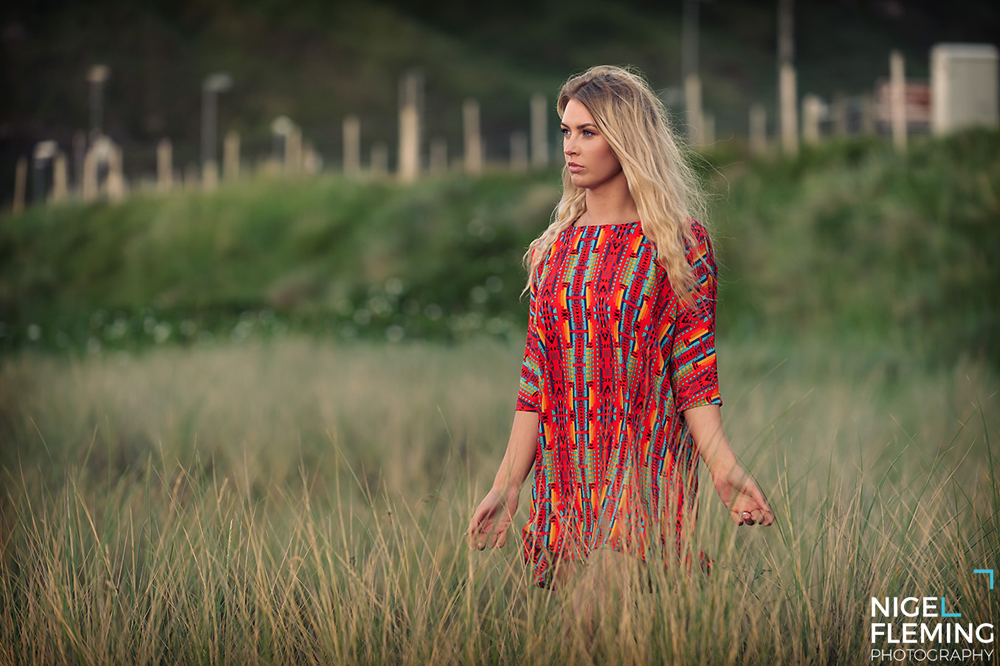 This was the area behind the Lifeguards hut. F2.8 on 70-200 lens with off camera flash for fill light on Lauren.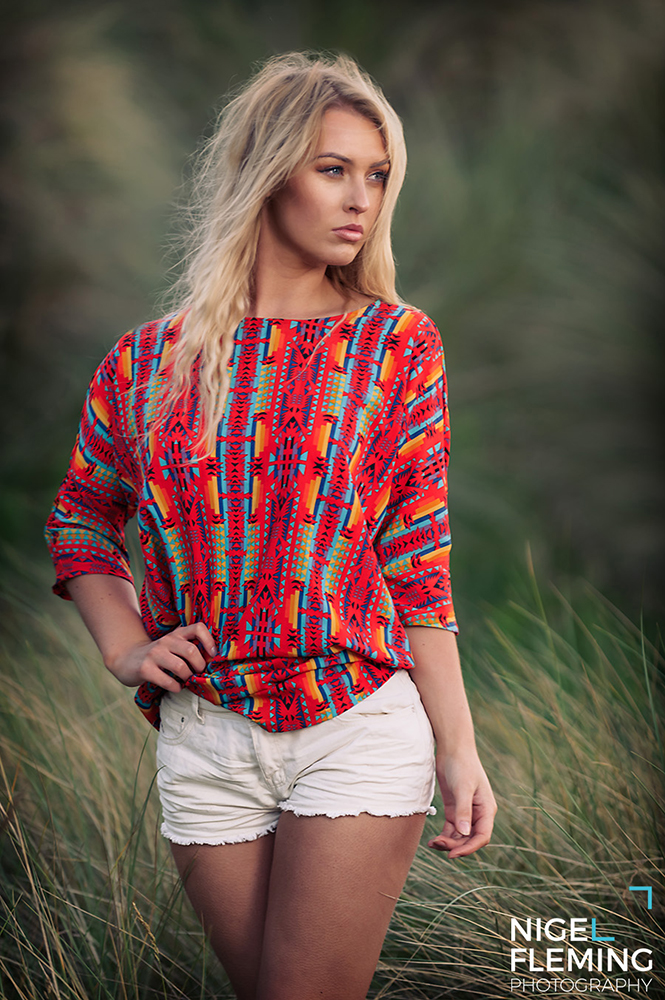 Similar to above, but a change in location.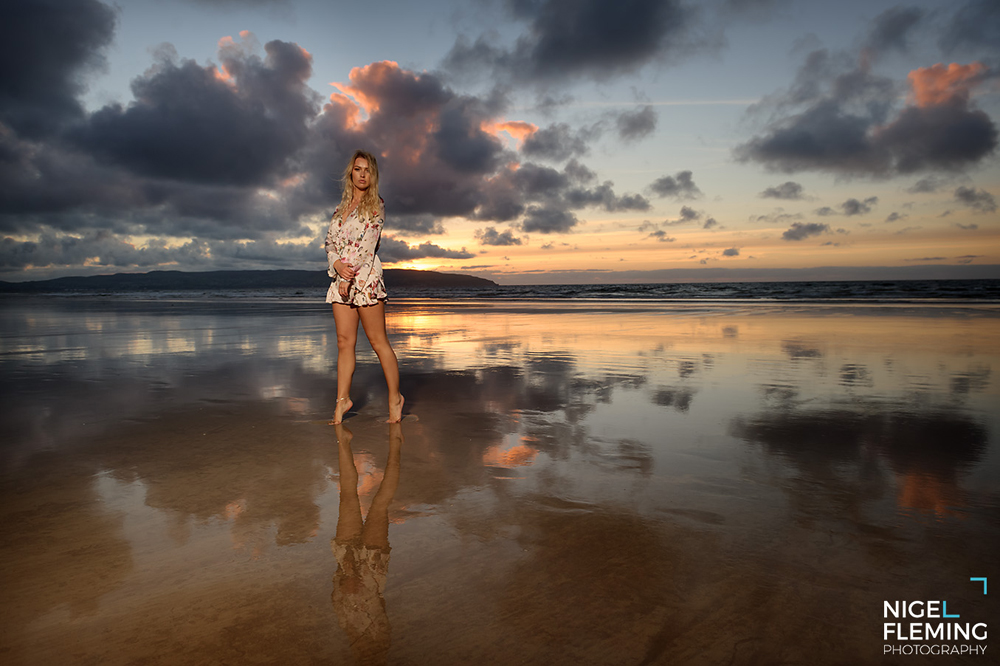 This was our last setup of the evening and back to the same position of our first setup. This was an out and out off camera flash one! It was around 10pm at this stage and we were very fortunate to have some colour in the sky as the sun set. Here I exposed for the natural light at f5.6 and 250th second shutter speed. Off camera flash was positioned to my left and it was gelled to match the colour of the natural light in the sky.
I hold regular off camera flash workshops, and hope to have a few evening workshops at the beach over the summer to create similar images to the above. If you would like to attend one of these photography off camera flash workshops, please message me using the contact form below.