Ive recently returned from a two day photography trip, using off camera flash in Majorca.
I will be running a three day workshop to Majorca either later this year in Autumn, or Spring 2020 ( late April/early May). Please see details below.
This trip was several years in the making. Pollensa, Alcudia and Puerto Pollensa are areas in the north of the island I know well, having holidayed in Puerto Pollensa many times. Each time I was there on holiday I would remark how perfect it would be for a photography project. Finally this trip made it happen, and I got to put local knowledge of the area to good use.
I asked Emily if she would be interested, and also fellow photographer and long time friend, Rosemary. Thankfully both were as excited at the prospect of the trip as I was, and that's where it all began. Flights and accommodation were booked and we were off!
On the first day, after a good breakfast we got a taxi to Alcudia Old Town.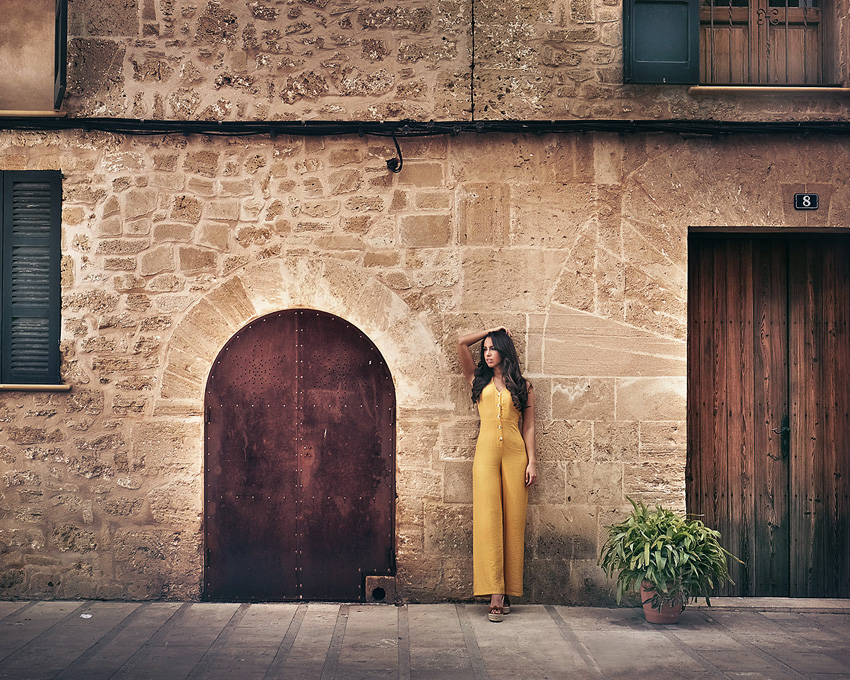 This was our first setup of the first day. Alcudia Old Town was literally a picture around every corner with its traditional Majorcan architecture. Prior to leaving I used Google Maps, and had a virtual 'walk around' the streets to scout potential locations. This was one such location I had identified on Google Maps, and it lived up to expectation in reality when we got there. I used my Fujinon 16mm lens here at f5.6 and 250th shutter speed. This was a bright, sunlit area, so those exposure settings made for a slightly underexposed version of the existing natural light. This slight underexposure then rendered the scene with more contrast, shadow and saturation. It was a simple matter then to bring up the exposure on Emily using off camera flash through a soft box from camera left. (Shown below).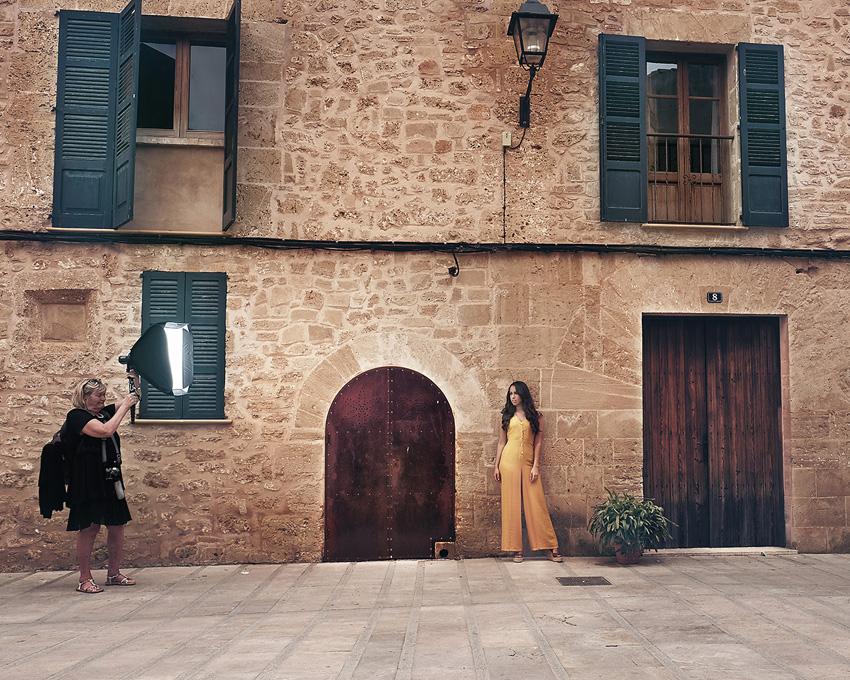 A wider view to reveal more of what was going on with this first setup.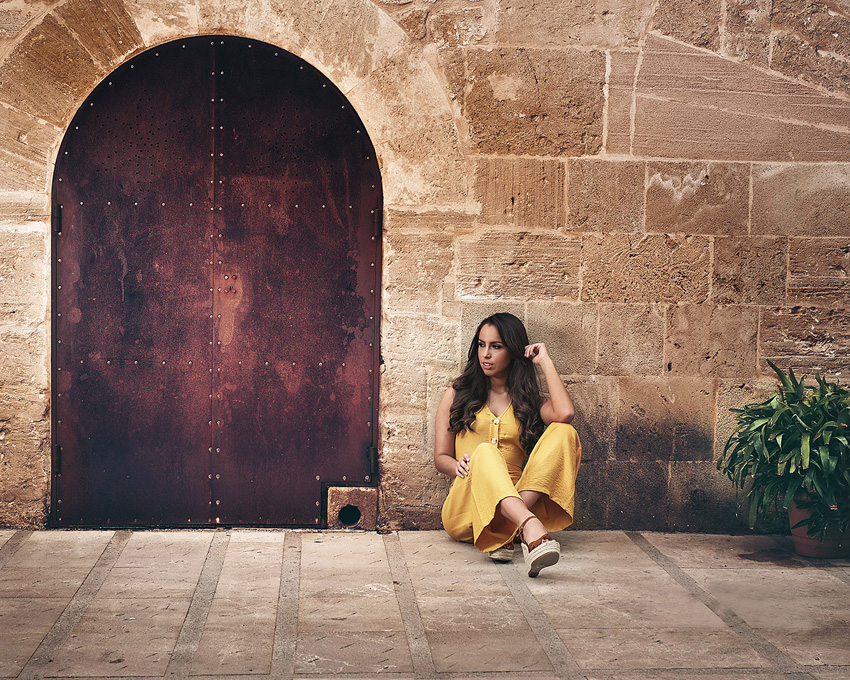 This is as above, but with a change in Emily's pose and the position of the off camera flash lowered to suit.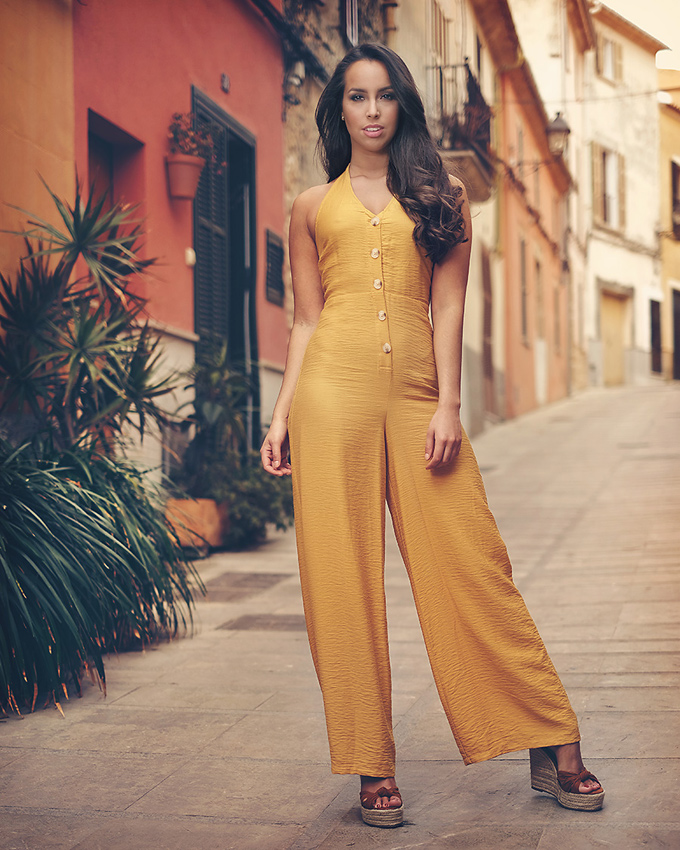 Just around the corner and this was our second setup. Again, this was a Google mapped location. Exposure here was f1.4 on a Fujinon 35mm lens and 2000th shutter speed. I chose these camera settings for a couple of reasons. Firstly I wanted as shallow a depth of field as possible, which was f1.4 on this lens. Secondly, I wanted to deliberately use a high shutter speed to try out the HSS (high speed sync) of the Godox AD200 off camera flash.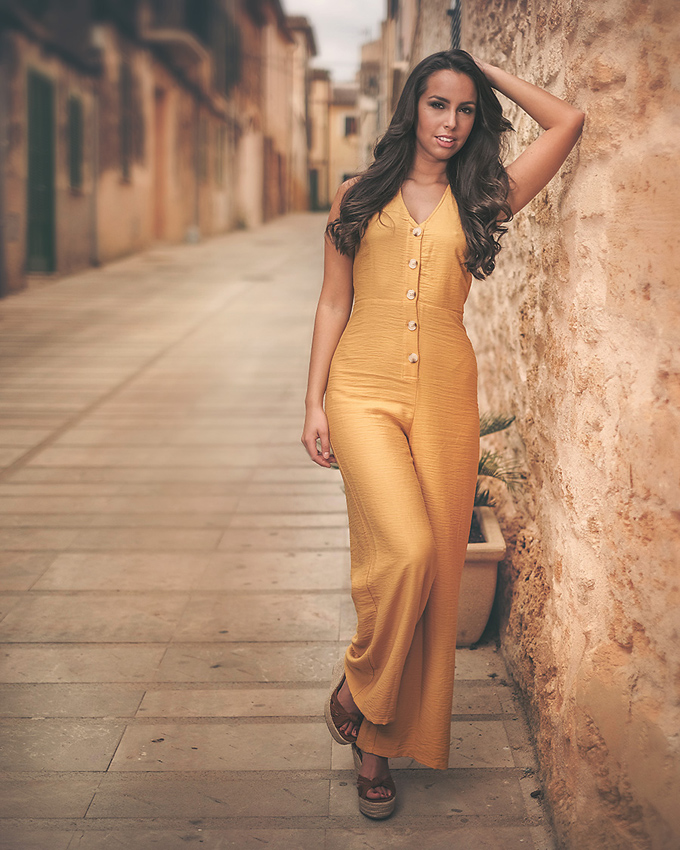 This was the next street along. Setup here was pretty much as previously, but the shutter speed was increased to a maximum of 8000th second. This really tested the HSS mode of the Godox AD200. Off camera flash on both these setups was through a soft box to camera left.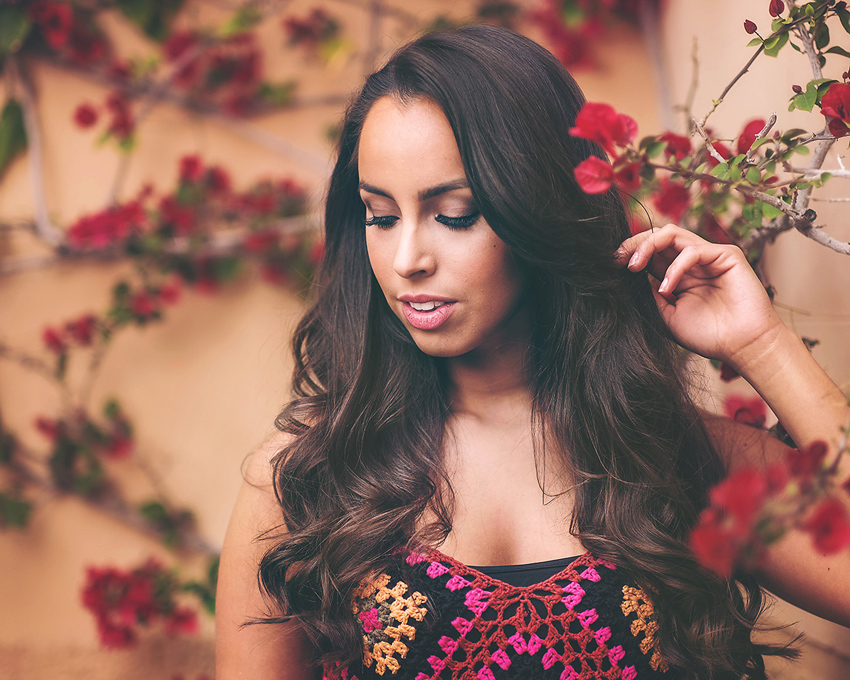 Not a planned stop, but this wall climbing plant was in full flower on the opposite corner, so we made use if it. Here I used my Fujinon 56mm lens at wide open aperture of f1.2. The smallest amount of flash from the Godox AD200 in a soft box was added as fill, only to lift the shadows.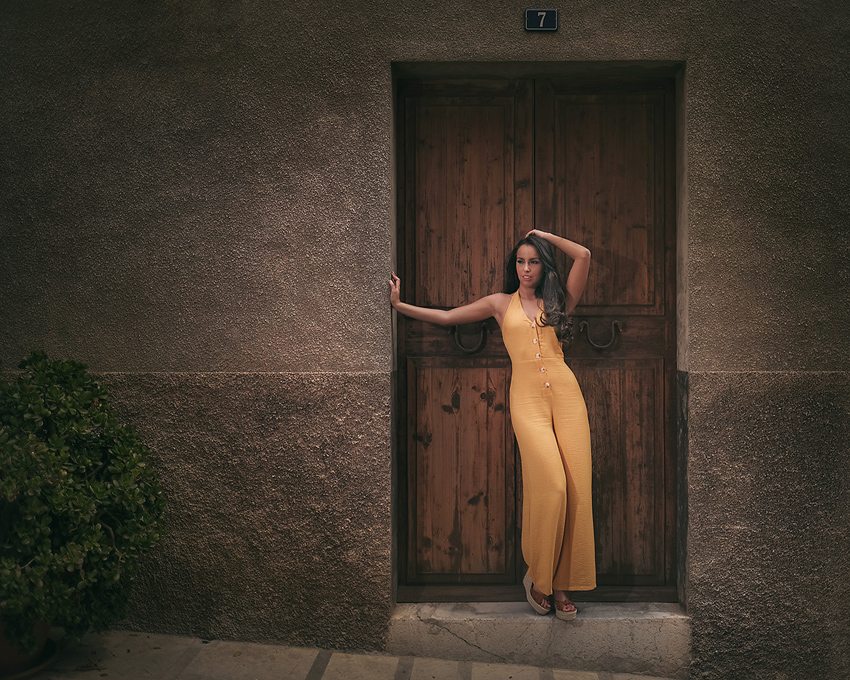 This was a doorway at the top of the colourful street shown above. I changed up the style completely here by removing the soft box and going for a hard light from a bare speedlight. This created a much more contrasty, punchy picture. This was further enhanced by choosing to underexpose the natural light by around two stops here to create quite a moody scene. This was on the Fujinon 16mm lens at f1.4. The off camera flash was in HSS mode and positioned high on camera left.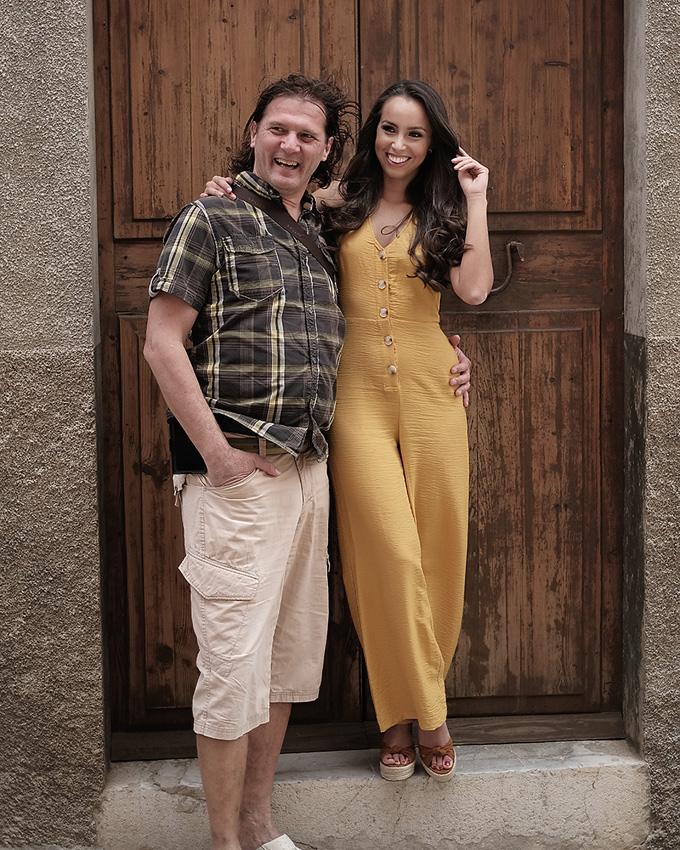 The passers-by wanted in on the action too! ? This guy asked if he could have a picture with Emily, while he shared a laugh with his wife/partner who was looking on. It became evident at an early stage in the day that we were attracting quite a bit of attention on each stop we made. Soon after stopping at each location and during setup, we would have several people stop and watch.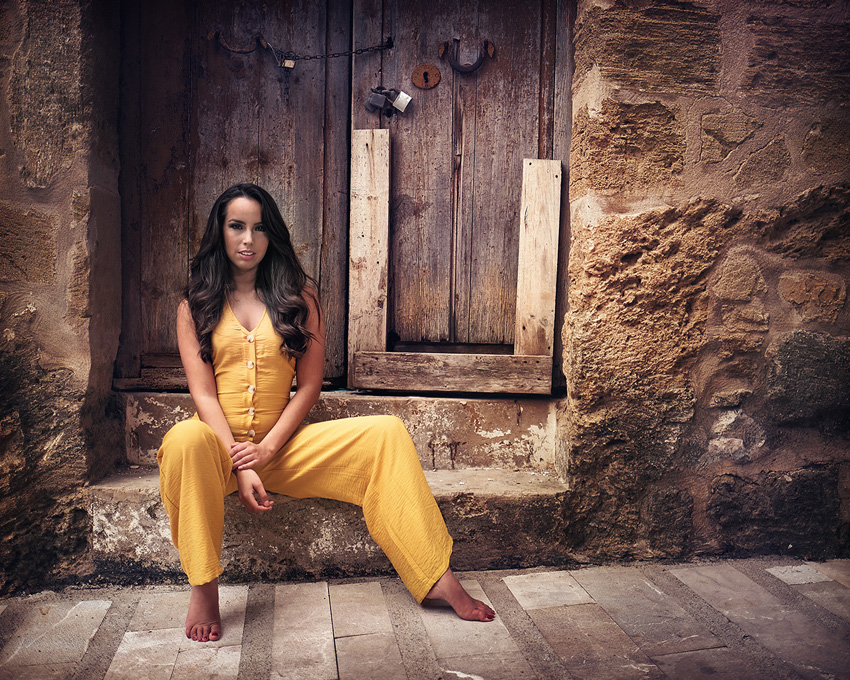 I loved the texture of this old doorway and step. This was one I'd identified on Google maps prior to leaving. It didn't disappoint. Here I stuck with the hard light look (see below).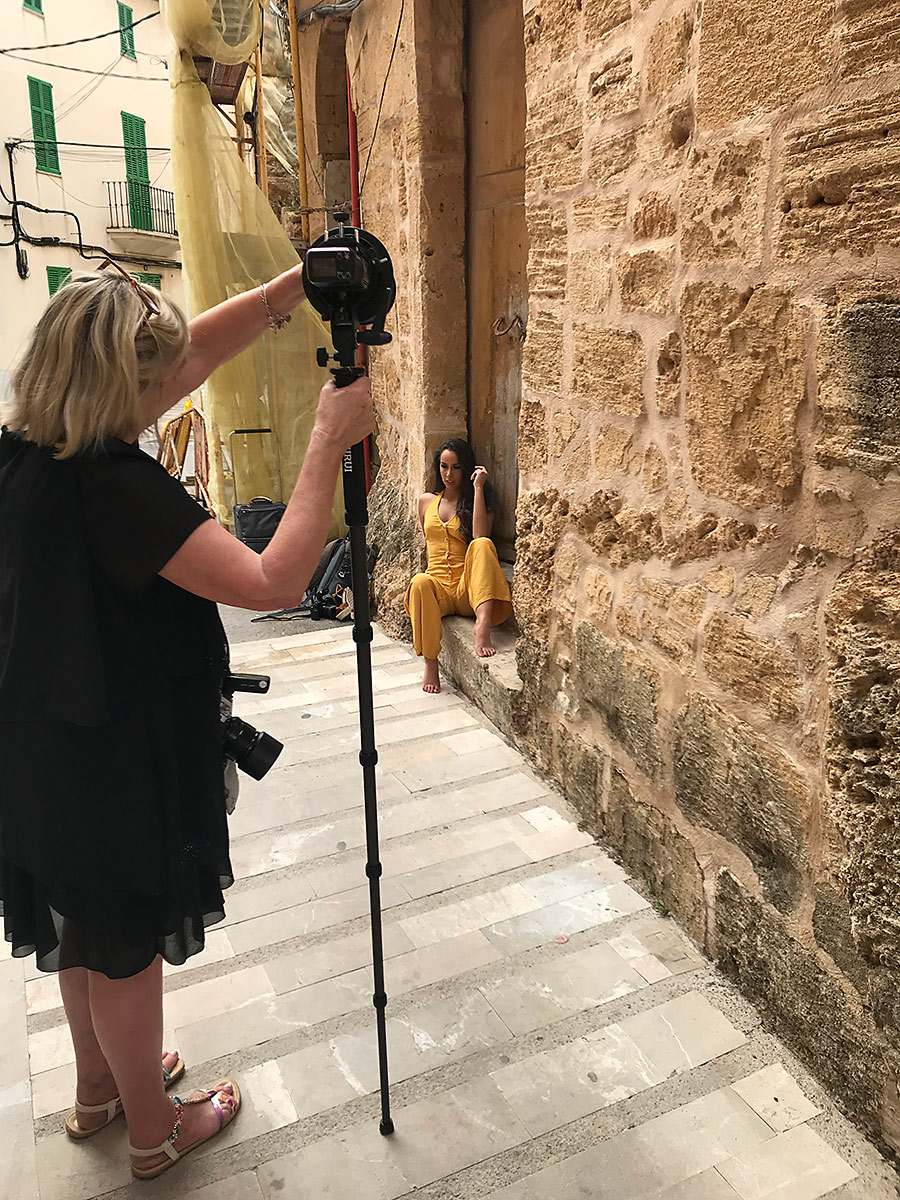 iPhone photo of the above setup.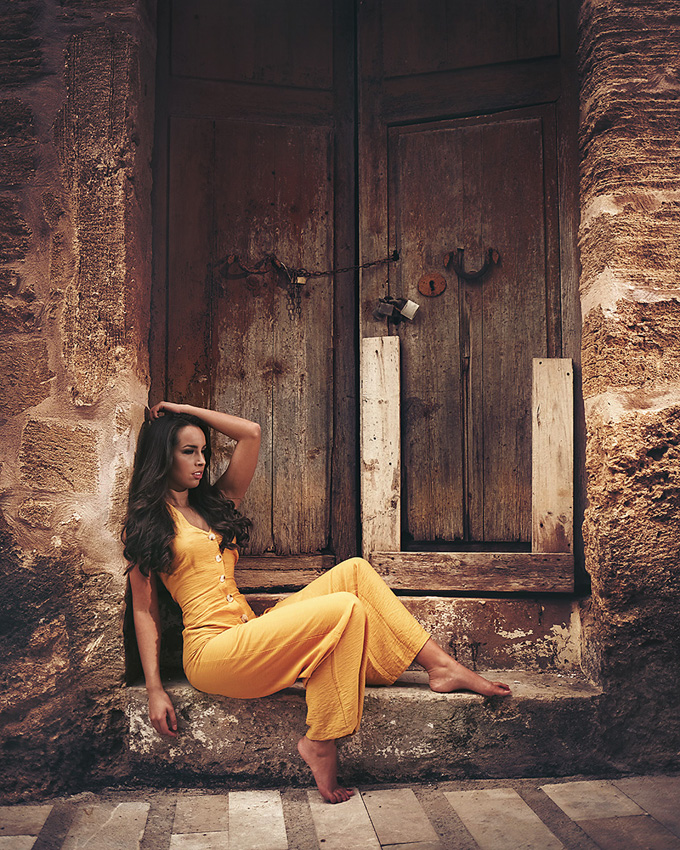 A variation of pose. Lighting and exposure unchanged.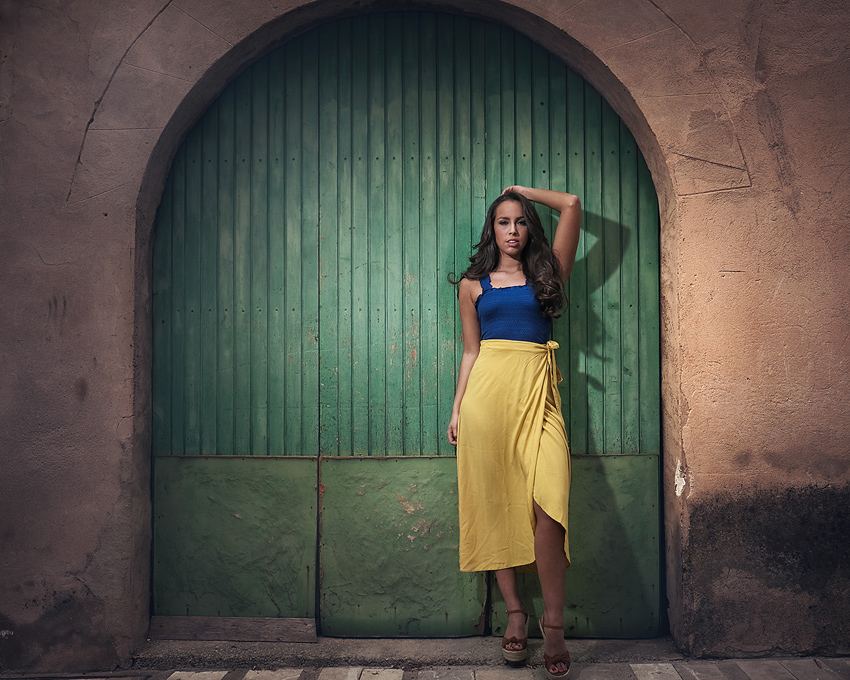 This was an unmodified, bare speedlight with the ambient light underexposed. The hardness of the speedlight can be seen clearly by the crisp shadow of Emily on the door.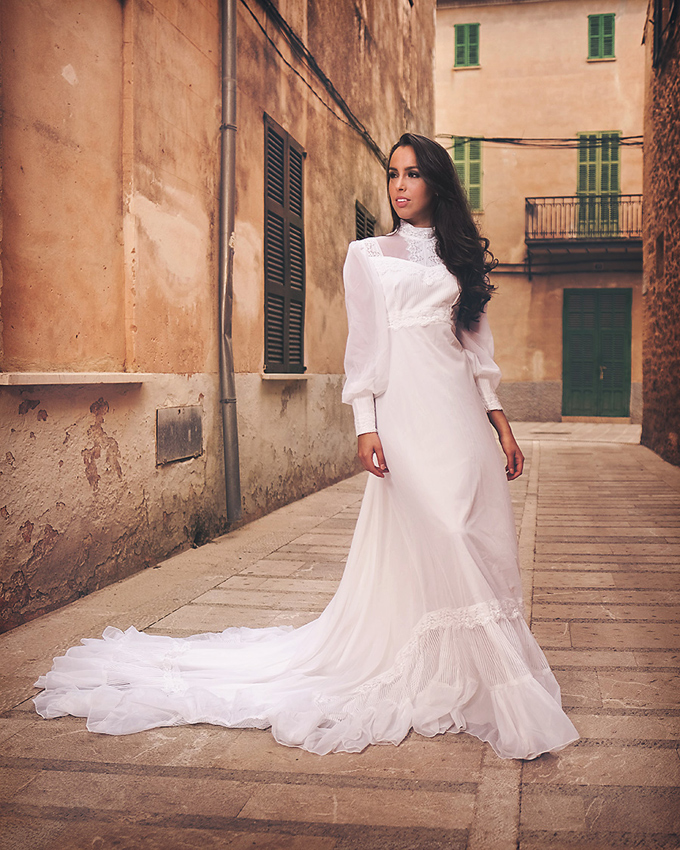 This was our final setup of the morning in Alcudia. Rosemary had brought along this beautiful vintage dress. Most of the streets of Alcudia Old Town were reasonably quiet so composition without passers-by was easy. People who did come along tended to be quite curious and stopped to watch and had a look at what we were doing. On this setup we even got the attention of another large photography group who were making their way around the streets of Alcudia. This was exposed for the background and then Emily lit with off camera flash from a soft box.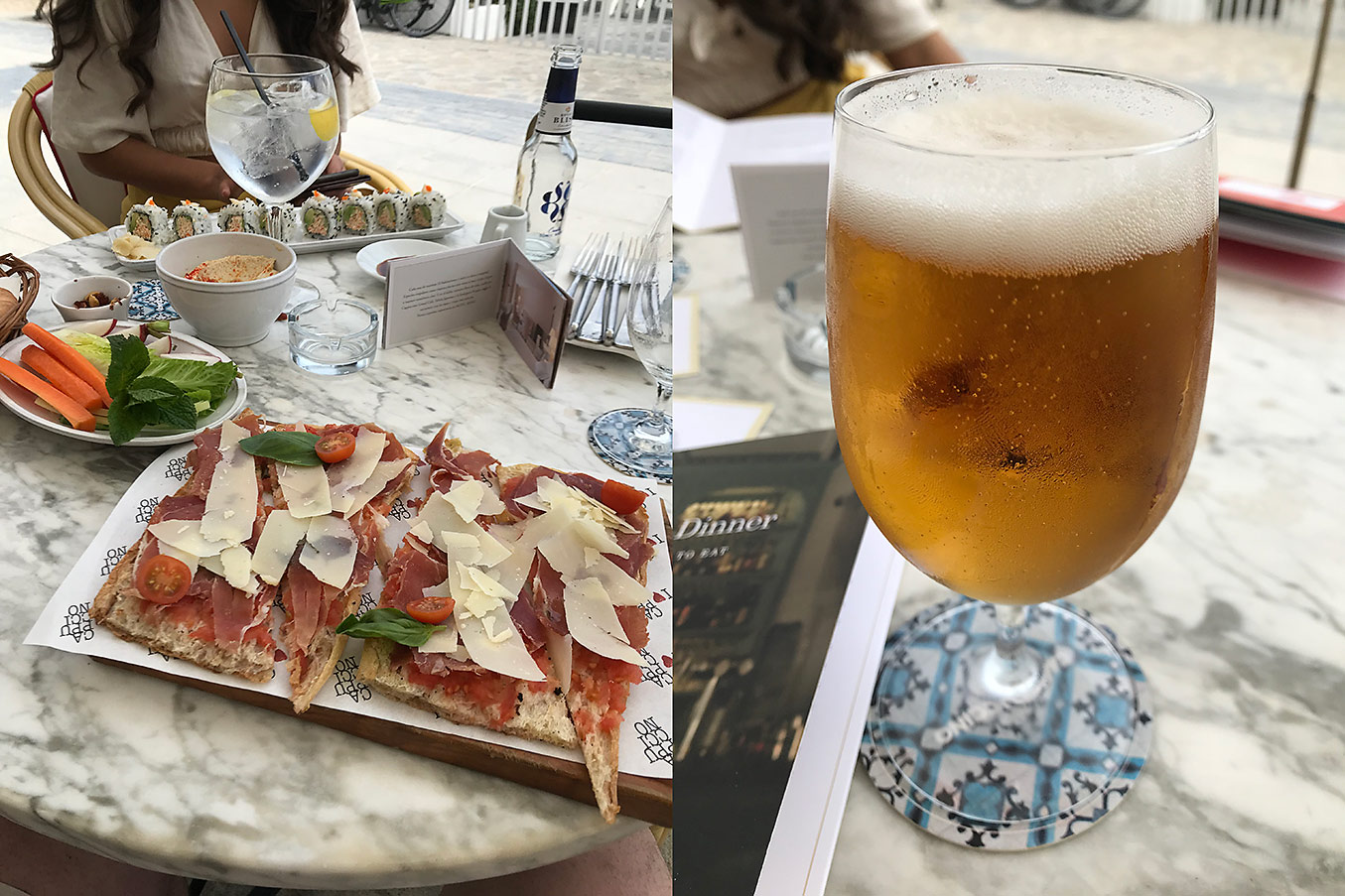 From Alcudia, we got a taxi the short distance over to Puerto Pollensa. First on the list was some lunch on Pine Tree Walk!
Pine Tree Walk in Puerto Pollensa has always been my all time favourite place. It's probably a bit under one mile long, and perfect picture postcard scenes everywhere you look. On one side it has an old stone wall, punctuated with gaps of two or three stone steps down directly into the Mediterranean. It gets its name from the many protected pine trees overhanging into the sea. The other side of the pedestrian walk has a great blend of restaurants and private villas of the rich and famous. All the restaurants have outside seating to maximise their idilic location overlooking the Mediterranean bay. I can think of fewer places more relaxing and picturesque. This area is one of the big reason I'm drawn back time and time again to this place.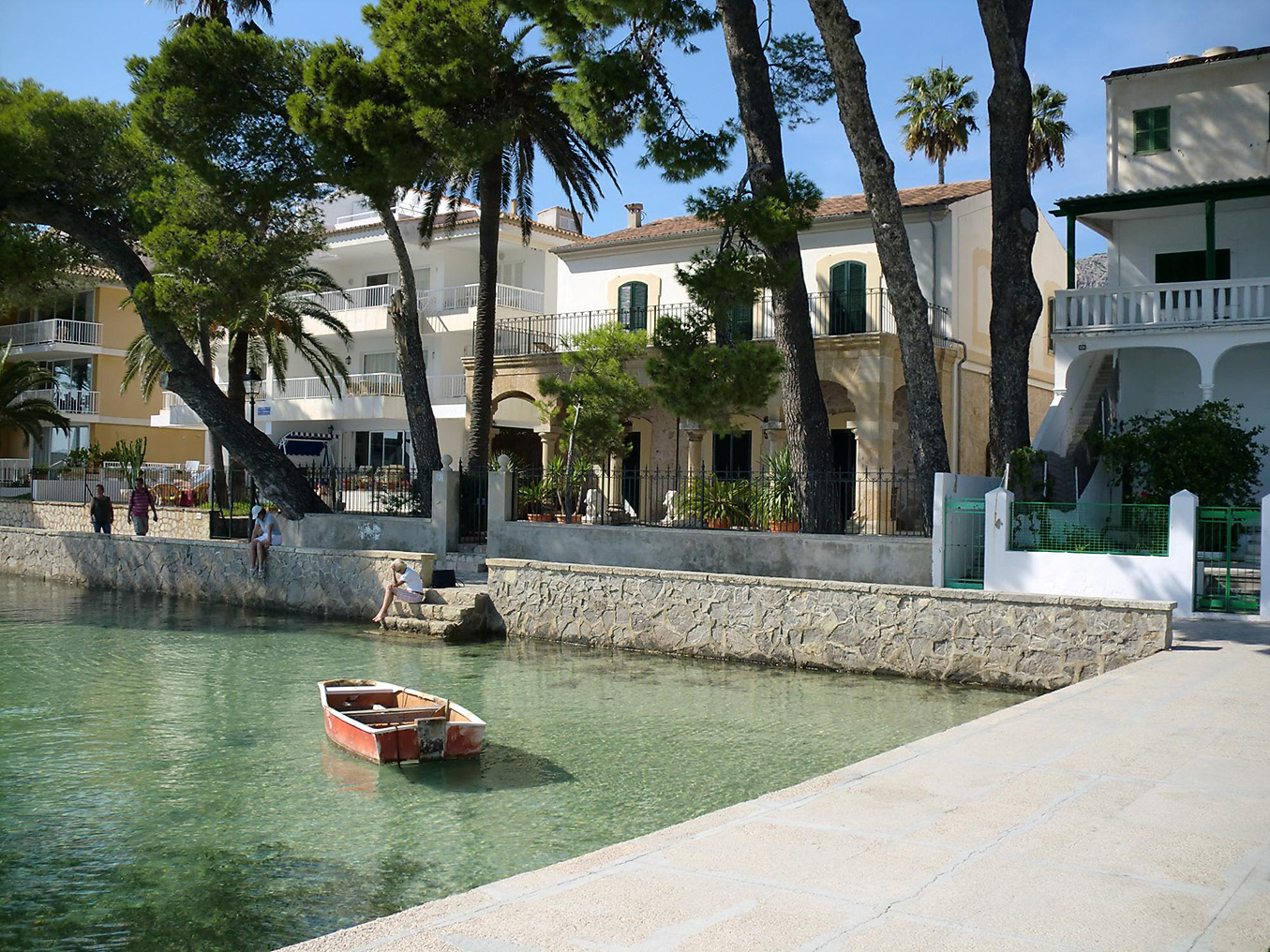 Pine Tree Walk – Puerto Pollensa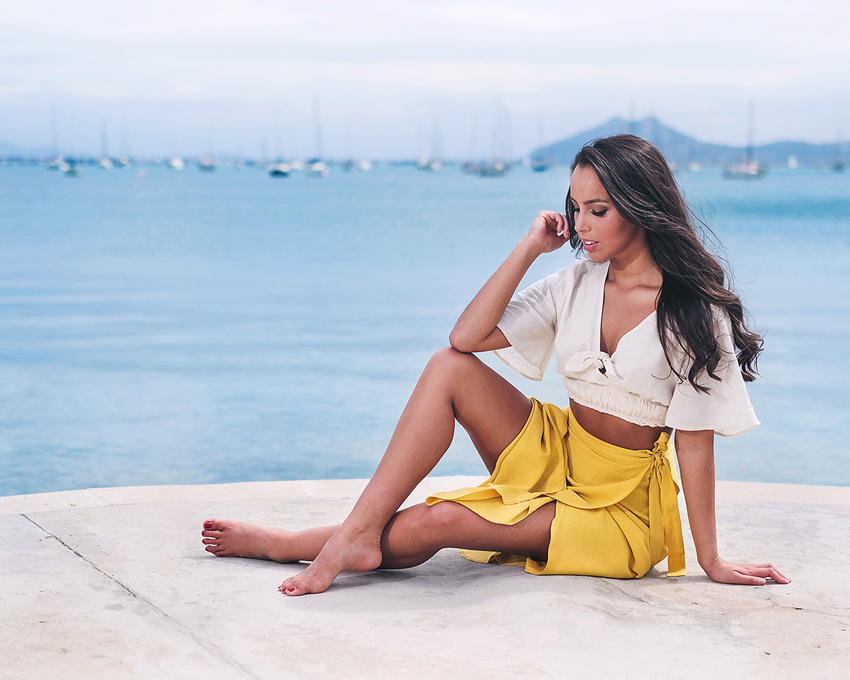 Pine Tree Walk has many jetties reaching from the beach, out into the shallow bay. This was our first setup of the afternoon in Puerto Pollensa. I deliberately chose this jetty as it was incredibly light coloured and acted as a great reflector on Emily for the hard direct sunlight. Even with this reflected light, an off camera flash was also needed. In this case a bare bulb Godox AD200 from camera left. I wanted to create a bright summery feel to this so exposed the ambient light quite brightly. Even so, this still resulted in an exposure of f2 at 8000th shutter. The afternoon sun was blazing down at this stage and we were fully exposed to it. I wanted a shallow depth of field, and f2 was as wide as I could go without blowing highlights. This was on the Fujinon 35mm f1.4 lens, at f2.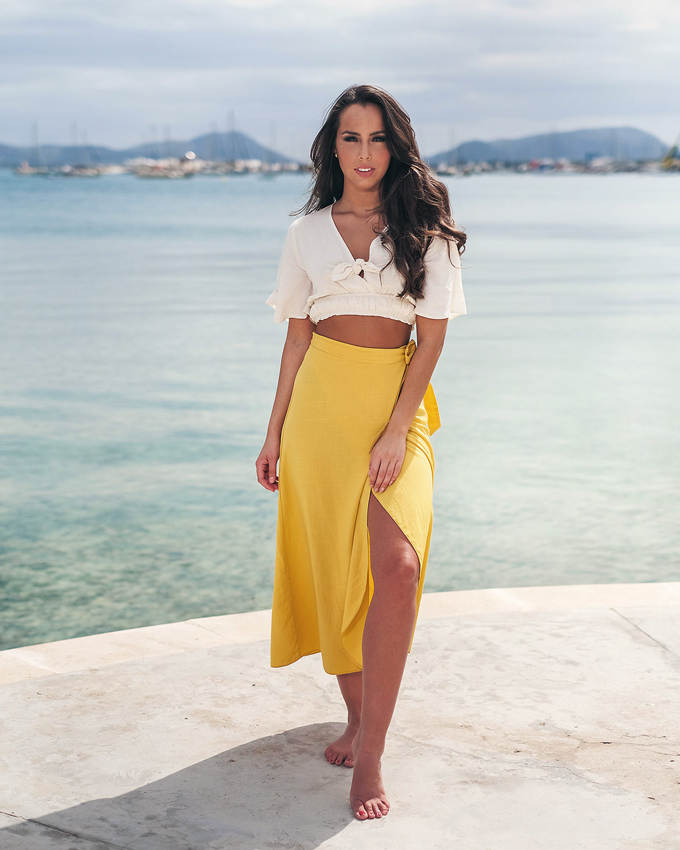 This was as above. Emily's shadow here was created by the sun, and shows the strength and direction of the sun. Reflected light from the surface/ground and off camera flash were both used to light Emily.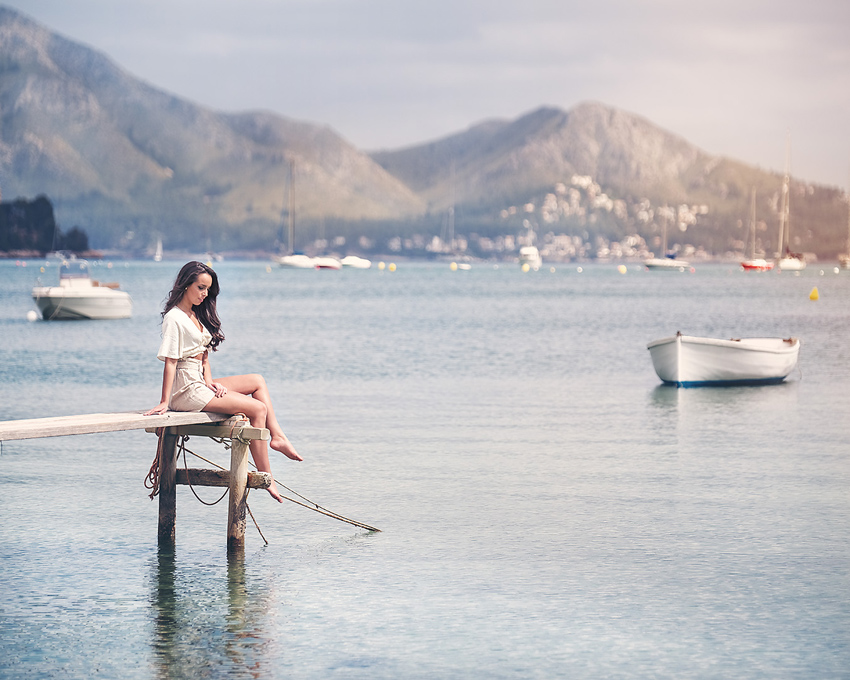 Just a few yards along and I asked Emily to sit on the end of this long wooden jetty. This was quite a bit out into the bay so a 50-140 lens was used here, fully at the 140mm zoom end of the lens. The aperture was f2.8 and no flash was used. Emily was reasonably well lit from reflected light off the water.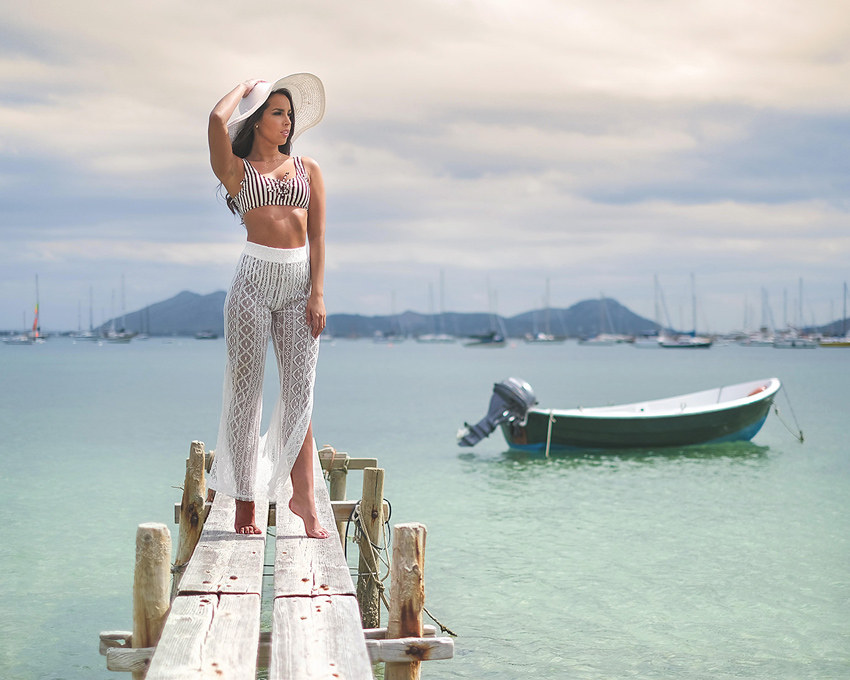 Further along Pine Tree walk and we used this wooden jetty for our next setup. This was on the Fujinon 35mm lens.  Rosemary kindly held a bare bulb AD200 flash to my right and almost over my shoulder as we were all out on the narrow jetty at this stage. I'd brought the sunhat from my studio so we decided to use it here. (See below).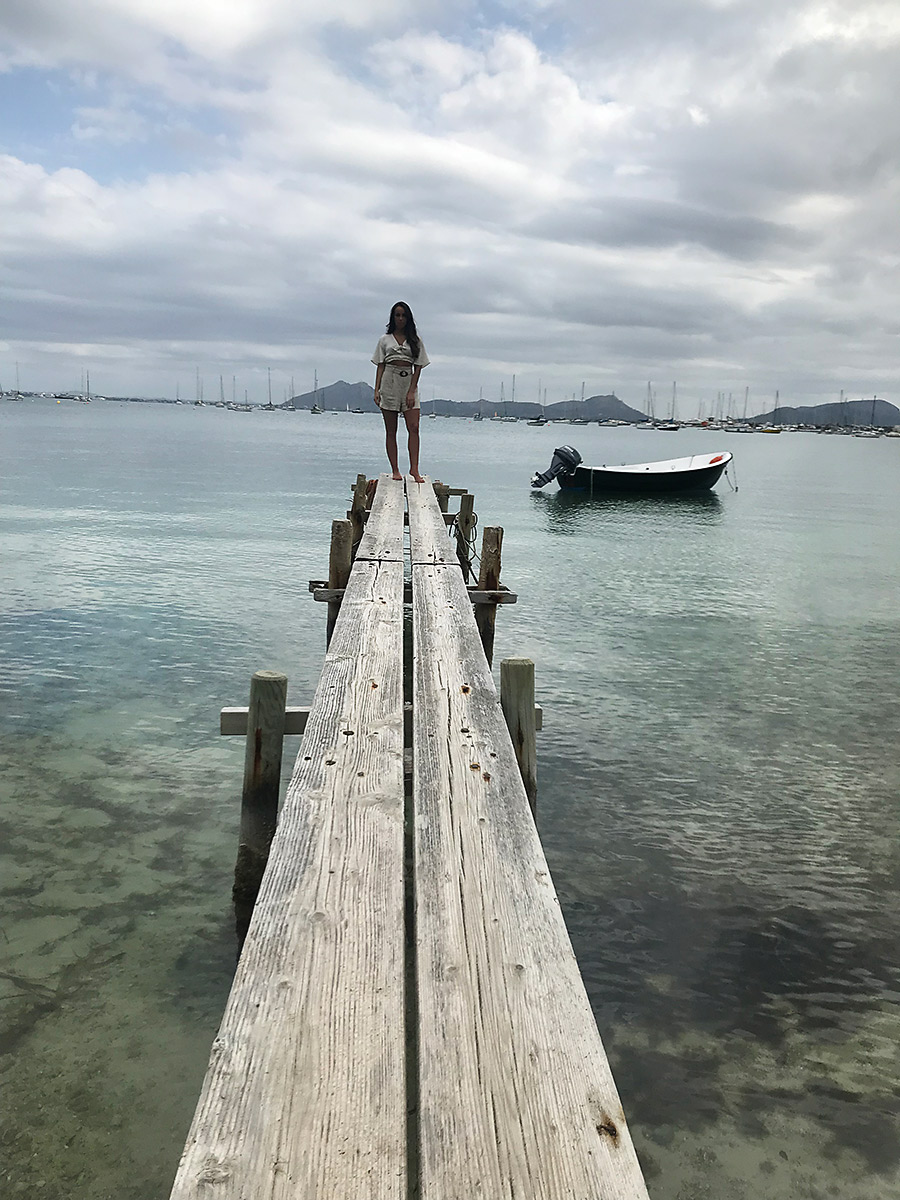 iPhone photo of the above setup.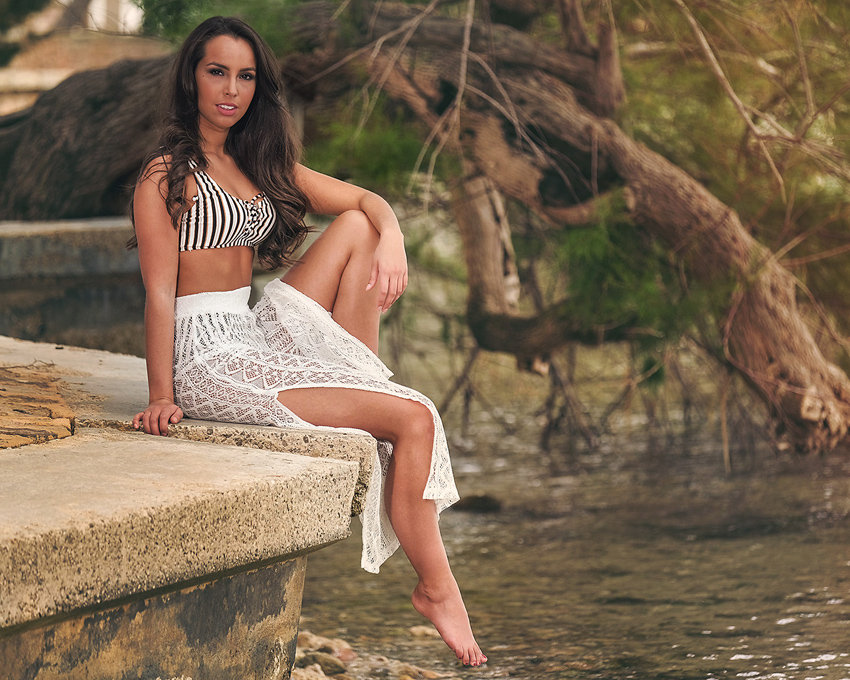 This was our last stop along Pine Tree Walk. This was using the Fujinon 50-140 lens and a small amount of fill flash.
Our second day was a little shorter due to our return flight time. We started out quite early though and got a taxi up to the view point of Mirador Es Colomer. This is just a short distance from Puerto Pollensa. It's elevated location on the north tip of Majorca has breathtaking cliff views into the Mediterranean.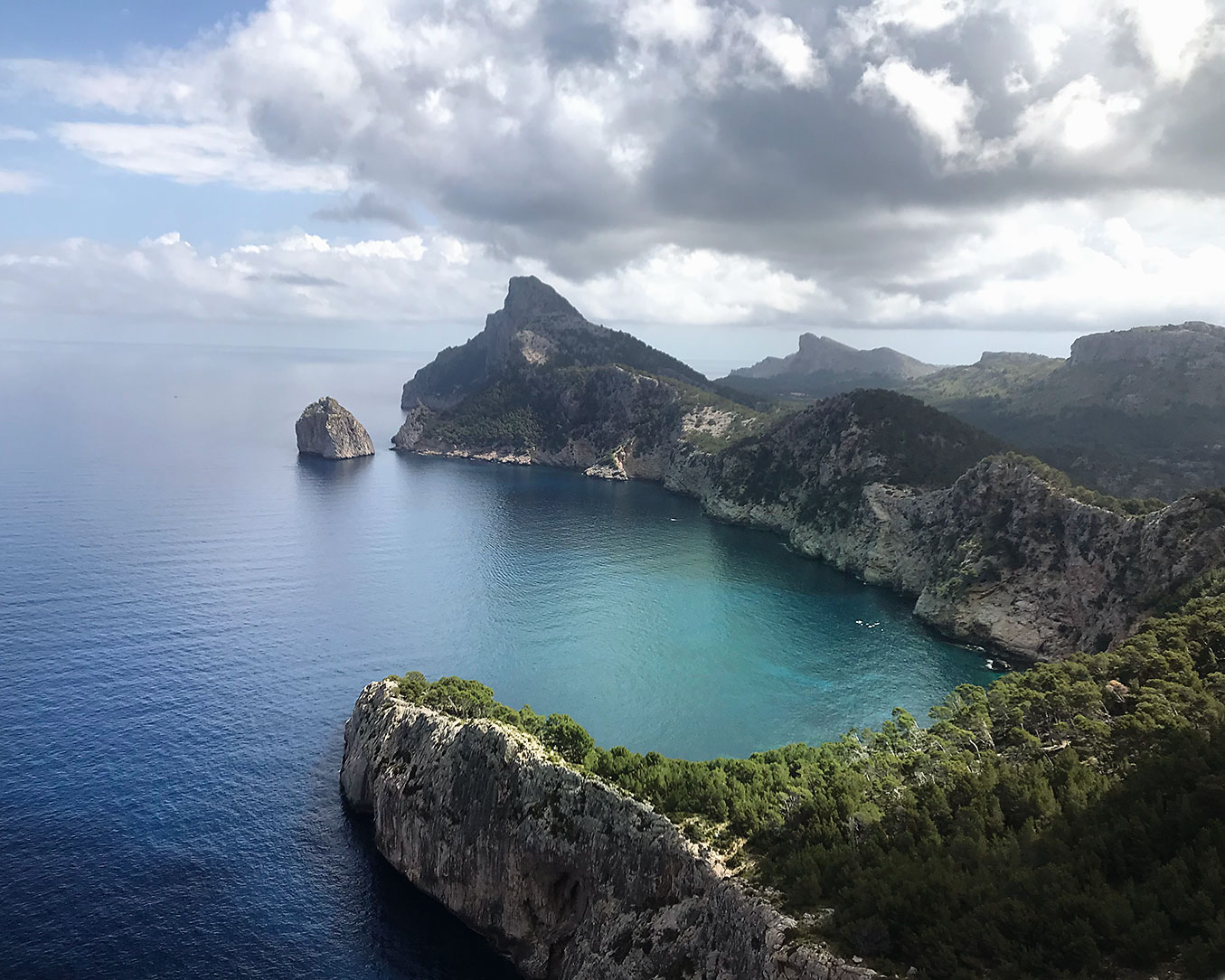 Mirador Es Colomer on the morning we visited.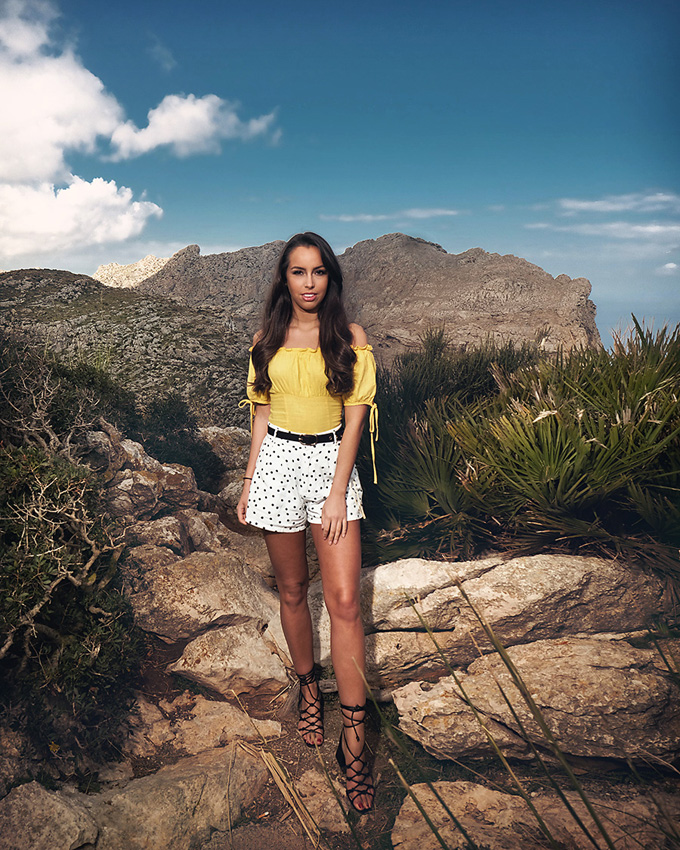 This was on the Fujinon 16mm lens at f16 in full sun. Bare bulb off camera flash was used from camera left. We just hand held the speedlight for each other here as it was incredibly busy, even in the morning. The path was narrow in areas so we didn't use a light stand to avoid blocking the heavy pedestrian traffic. (See below).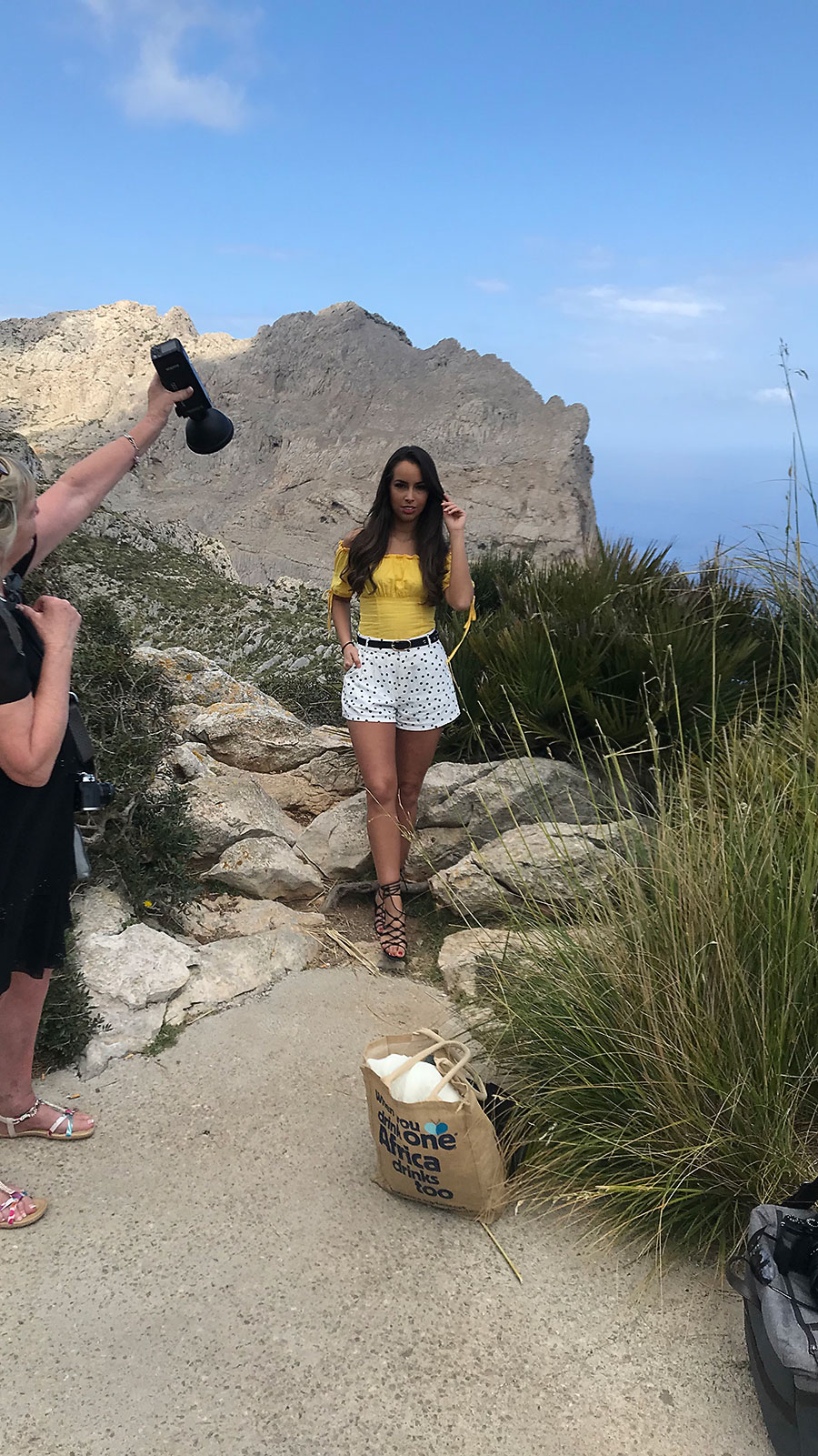 iPhone Photo of the above setup.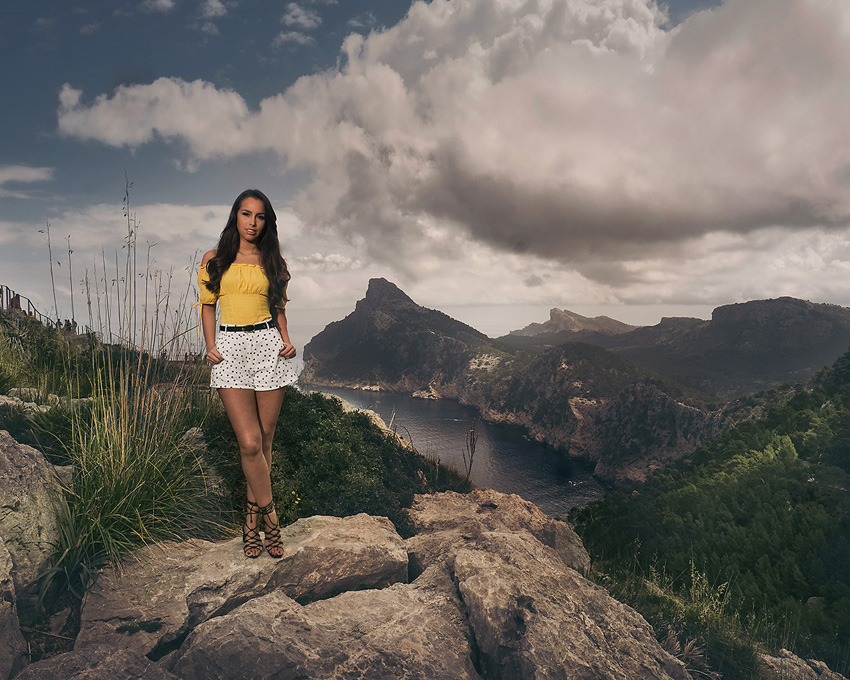 Setup as above.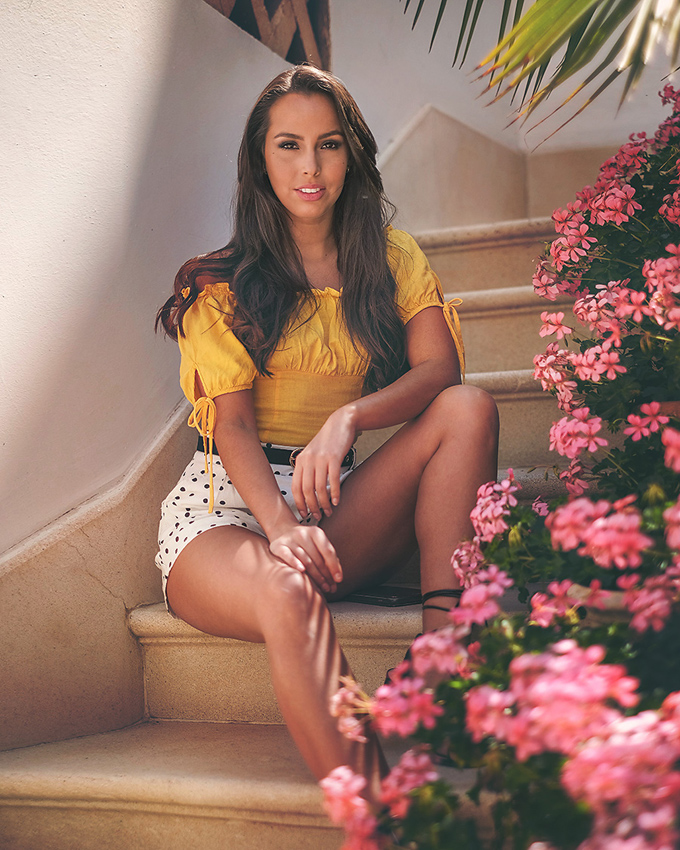 On our return down to Puerto Pollensa, we were walking to our chosen restaurant for lunch when Rosemary spotted this location. It was inside the rear entrance to The Miramar Hotel. The sun was blazing down fully here, but there was a nice area of shade on the steps to our left. We didn't want to start setting up flash here as we didn't want to risk being moved on by the Hotel management! We kept a low profile and grabbed some natural light shots quickly, quietly and left.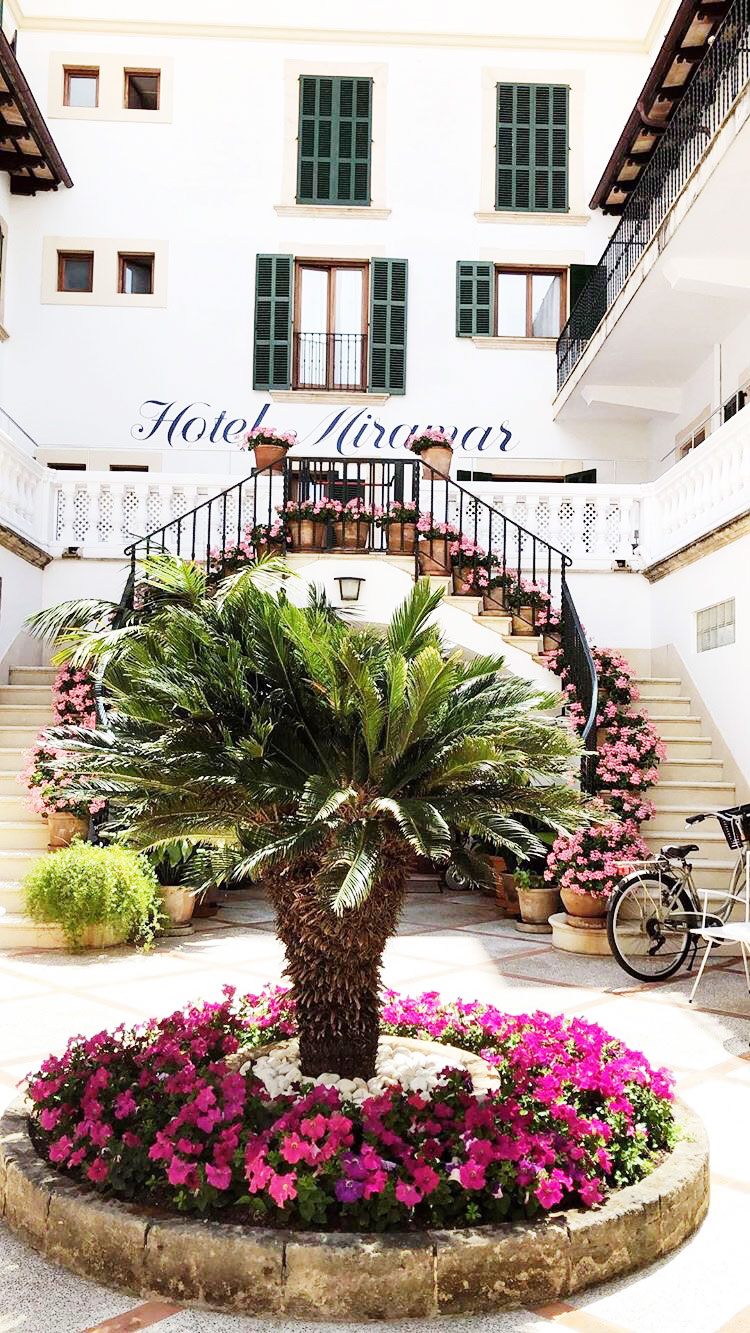 iPhone photo of the above. The rear courtyard entrance to The Miramar Hotel in Puerto Pollensa. What a beautiful hotel.
Following our lunch, we spotted a fortuitously placed pink bicycle beside the restaurant. Rosemary had brought along this vintage dress and head piece which couldn't have been any more perfect for the job. Emily darted in for a quick change and we were in business! This was probably the biggest lighting challenges of the trip as the afternoon sun was blazing down fully and in far from a perfect direction.  As with our pre-lunch setup, we wanted to keep a low profile on this one as we didn't know who owned the bike. For that reason we didn't want to be moving it away from its position, so had to work with the direction of the strong sunlight. Against the clock, we turned on the AD200 off camera flash and went straight to varying between full and half power to deal with the deep shadows.
As above. This was a race against the clock to get our taxi.
Majorcan Off Camera Flash Workshop.
I will be running a three day off camera flash workshop to Pollensa, Alcudia and Puerto Pollensa area covering many of the setups shown above.
This will be either later this year in early autumn, or spring 2020 in late April/early May. Due to flight schedules for future dates being unavailable from the popular arlines at the minute, I am unable to provide specific information. I am however, taking note of any photographers who may be interested in this photography trip. Following an initial post of a few photos from this trip on Facebook, there seems to be a keen interest in the next trip/workshop.
As a broad outline for now, we will follow an itinerary over the three days to cover a wide variety of off camera flash and natural light photography with a professional model. Our locations over the three days will include Pollensa Old Town, Puerto Pollensa, and Alcudia Old Town. This will be a mix of traditional Majorcan architecture and beach locations. A sunset session will also be included provided the weather allows for this.
Price and full details TBC.
Price will include three nights accommodation in the Pollenca/Alcudia area, the three day workshop with professional model, transport to and from all locations, transport to and from evening outings for dinner (optional), transfer to and from the airport in Palma. Not included will be flights, food and drinks.
If you are interested in a place on this workshop then please register your interest by sending me an email here. I will note your interest and provide you with full details when available. Obviously you are under no obligation to book at this stage and until details are provided. When emailing, please use the word Majorca in the workshop name of the contact page.