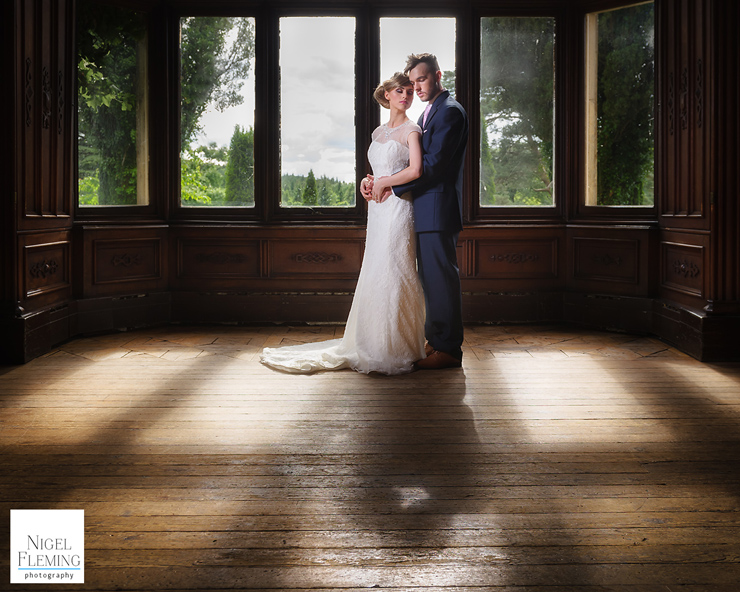 A few weeks ago I put forward a suggested workshop for a bridal themed day with Parkanaur Manor House as the location, and it certainly seemed to strike a favourable chord with photographers wishing to attend. So much so that I've another one planned hot on the heels of this one for early August and it too was fully booked almost immediately.
Let me start by saying while this workshop was bridal in theme, I'm not a wedding photographer. This workshop was primarily about lighting – using natural light, off-camera flash and a mix of the two in a great location and with the intention of creating some good bridal photography.
As models for the day I organised Destiny Carlisle and her real life boyfriend, Jay. I felt it was important when photographing couples to keep it as real as possible and what better way than to have a real life boyfriend/girlfriend.
Bridal styling by Diamond Bridal
Groom styling by Tux and Tails
Makeup by Catherine Fleming
Flowers by Flower Studio – Dungannon
Hair styling by Christopher Kirk and James Britton
Venue Parkanaur Manor House
Models Destiny and Jay
[hr]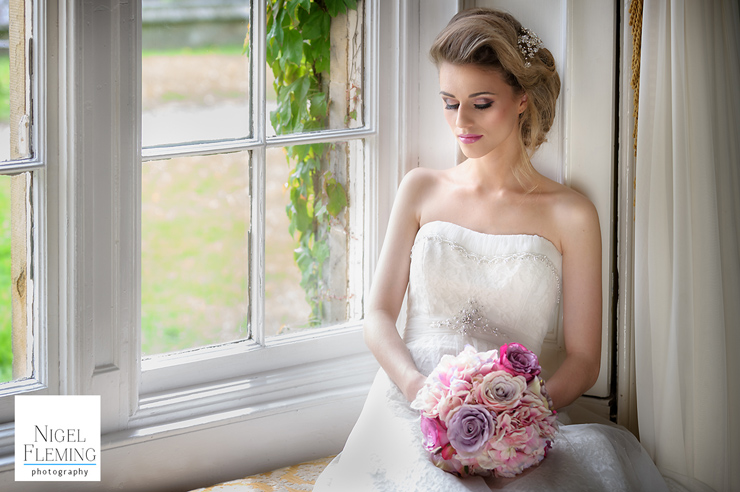 This was our starting point for the day. Parkanaur Manor House has some great features, not least of which its deep set windows. This was natural light with a little reflected fill light.
[hr]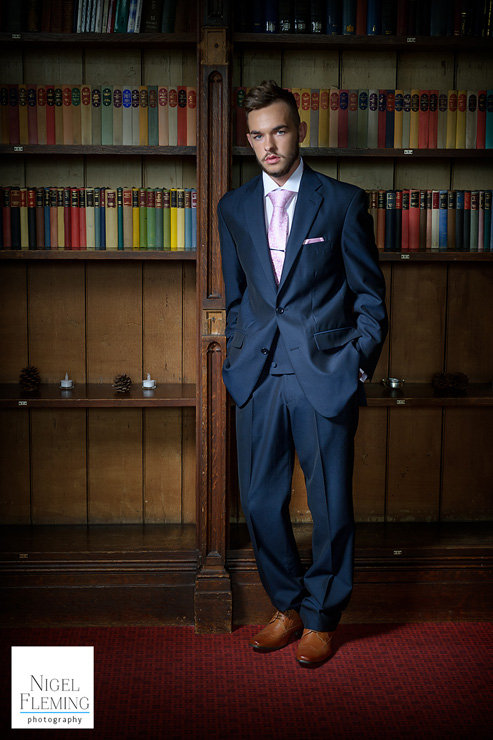 All workshops are limited to only six photographers. The reason for this is to giving every photographer a quality experience with plenty of hands-on opportunity to photograph every setup for themselves. While Destiny was being photographed in the window sill above, I quickly set up our groom, Jay in the Library room next door and temporarily split the group in two.
This was set up as off-camera flash, though using this spot on regular occasions it offers a great natural light picture too. Natural light is flat though and as can be seen in the photo above, an off-camera flash positioned camera left allows for a directional light to be added, replacing the flat natural light and using it now only as a fill light.
[hr]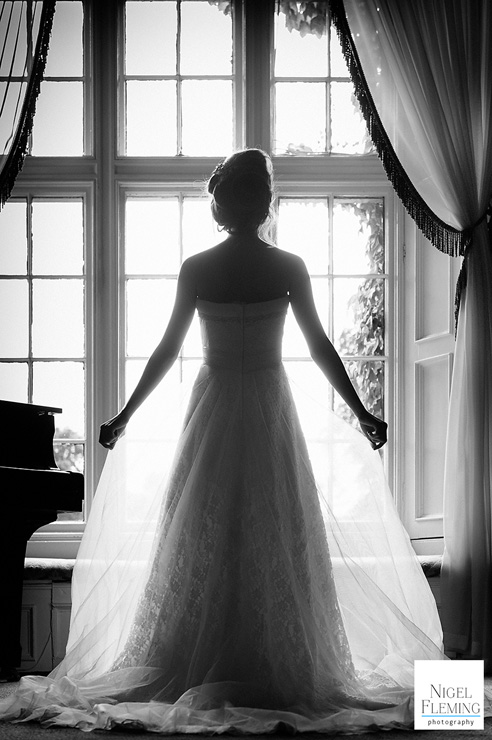 Getting back to our bride and sticking with natural light in the same room, this was another quick setup. This is a great opportunity to say what a fantastic job Diamond Bridal did in styling our bride. Karen and Laura both came along for the day and offered their full and personal service with attention to detail of the dress in every setup.
This was the first dress of two and when i spotted its chiffon and lace style I immediately thought to do a semi-silhouete in black and white. Some photographers decided to photograph this wider to take in the grandeur of the room and its feature ceiling.
[hr]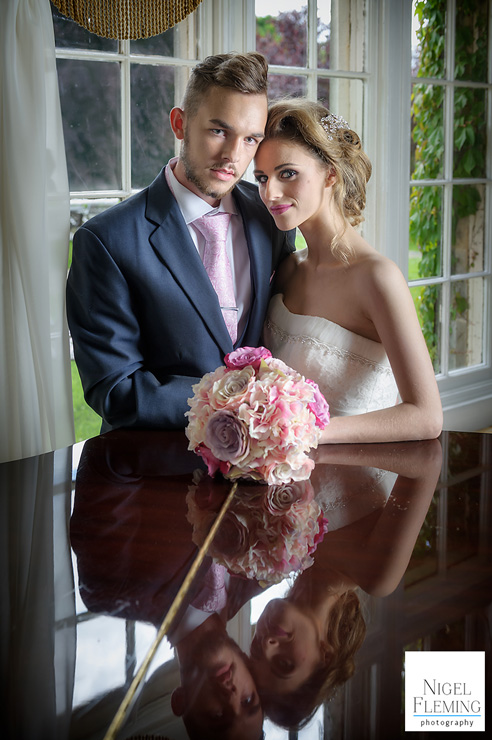 Still in the same room and the groom now joined back in to make our first couples setup of the day. The piano with its glossy top is a big feature in this room and the reflection was a big part of the composition. The light was off-camera flash and used as a fill flash.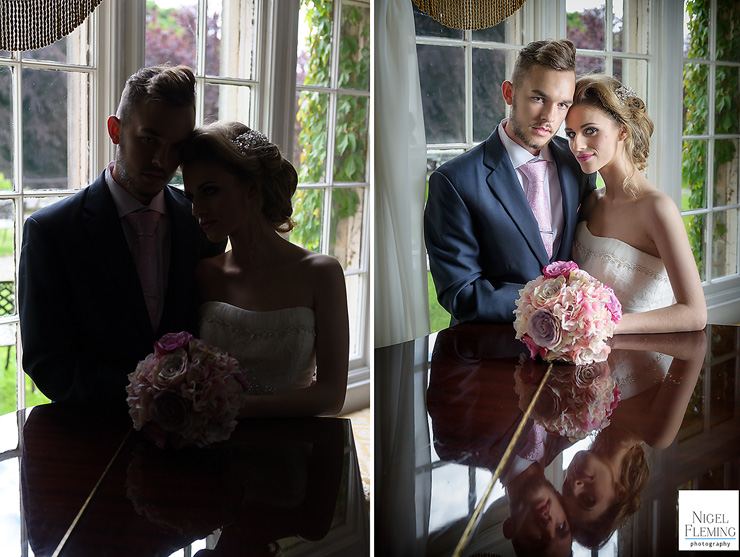 Here it is with my initial establishing the 'correct' ambient light exposure before flash was added.
[hr]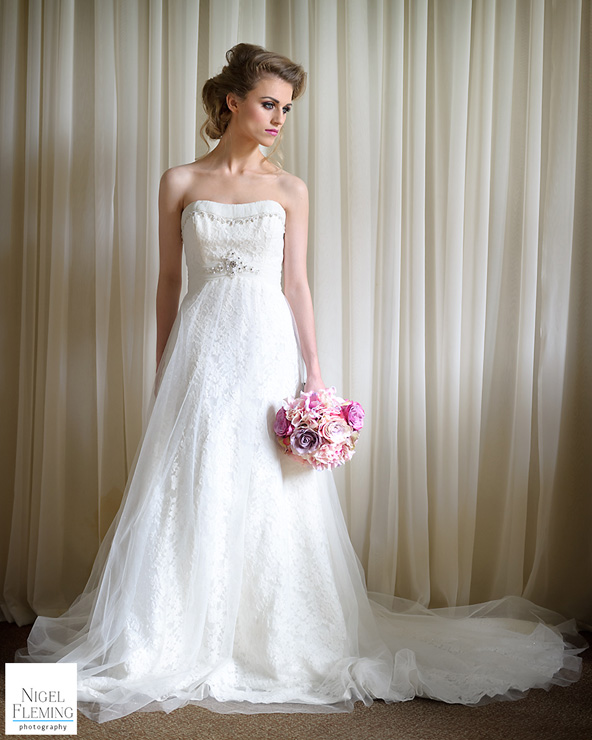 This was still in the piano room and natural light with a small amount of fill flash added for fill light.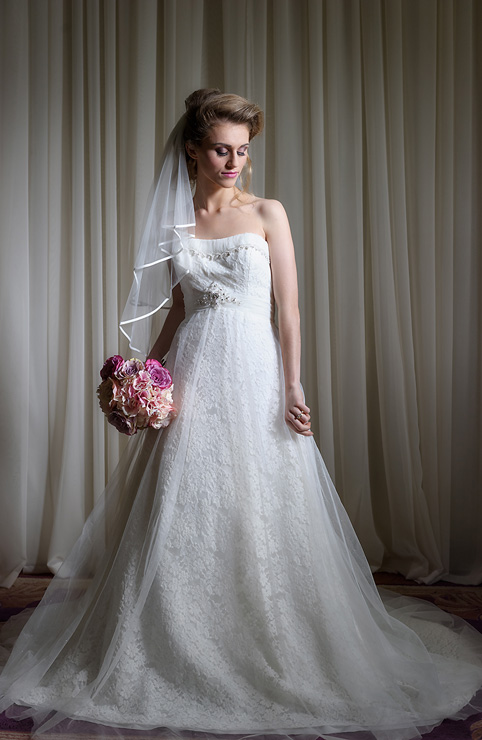 Exactly the same as above but this time the balance of ambient light to flash has been shifted to favour more flash and less ambient light. Two very different results by changing camera settings.
[hr]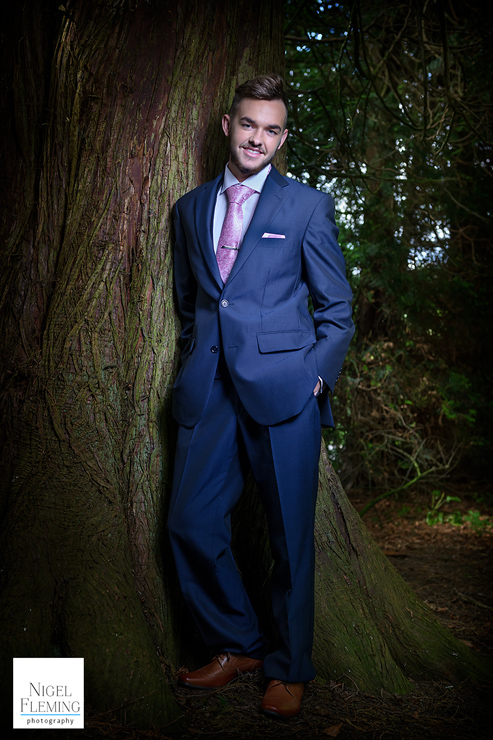 It was time for a change in our bride's look and styling. Destiny had a change into the second dress, while James changed the hair style, and Catherine also changed the makeup look.
While all this was taking place the photographers moved outdoors and we went for a walk around with the groom to see what opportunities there were for groom portraits. One of the photographers spotted this tree as we walked past and thought it would make an interesting photo. We had to control some strong dappled sunlight here, and each photographer photographed this slightly differently. In my setup photo above I chose to under expose the natural light and give it a lit look with off camera flash.
As with the bridal dresses mentioned above, I would like to thank Tux and Tails – Dungannon for an excellent job in styling the groom. Their attention to detail was second to none and had everything right down to the fine detail, including cuff links, tie pin, shoes and even socks 'groom socks".
[hr]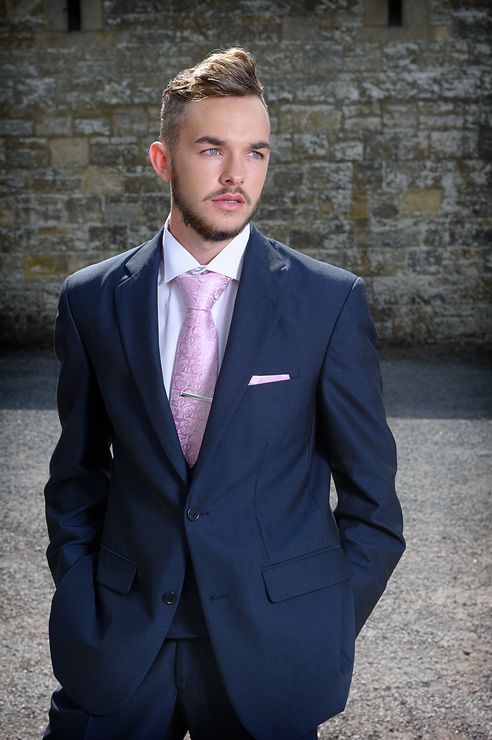 This was the main area I had in mind when we went outdoors with the groom. It's in a lower car park at Parkanaur. As the sun had stayed out strongly we set this up to use the sunlight as a great backlight on Jay. It's a typical fill flash situation but pretty full on extreme in terms of camera and flash settings. Using maximum flash speed of 200th to suit the Canon users, we were still getting an aperture value of f11 and beyond, such was the strength of the sunlight. Because I wanted to use a light modifier fitted to the flash to soften the light it was a big ask from the flash at that aperture. The flash (Lencarta Atom) was operating at full power but it coped admirably with 6 photographers and myself taking several shots each in rapid sucession.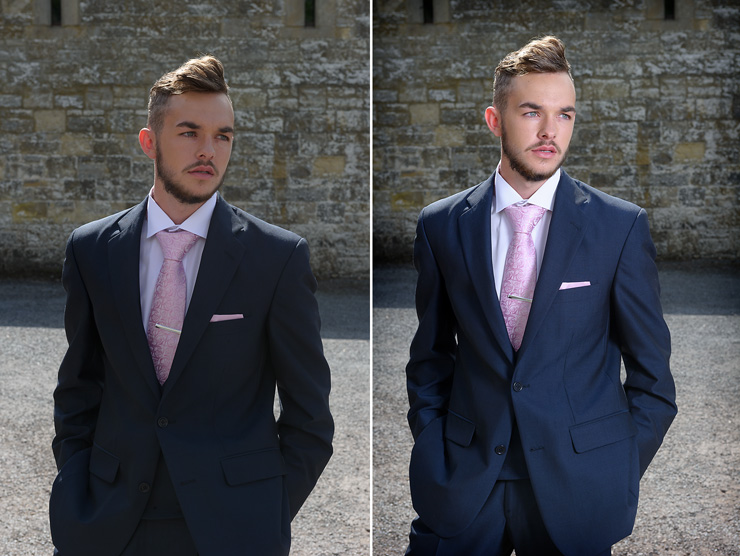 I always try to include a before and after photo where possible with my blog in mind. 200th at f11.
[hr]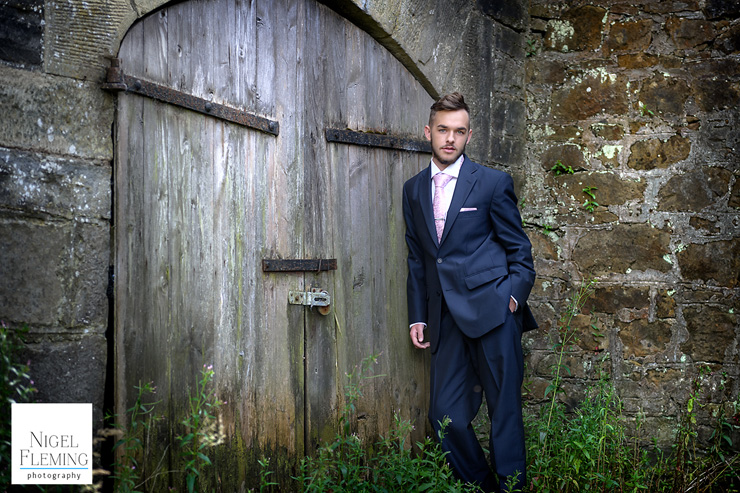 Moving across the car park and one of the photographers liked the look of these doors and suggested using them. I'm glad we did and this is one of my favourites of the day. This area was in shade so control was a lot more straight forward than previously. An off-camera flash was added here for fill light on Jay.
[hr]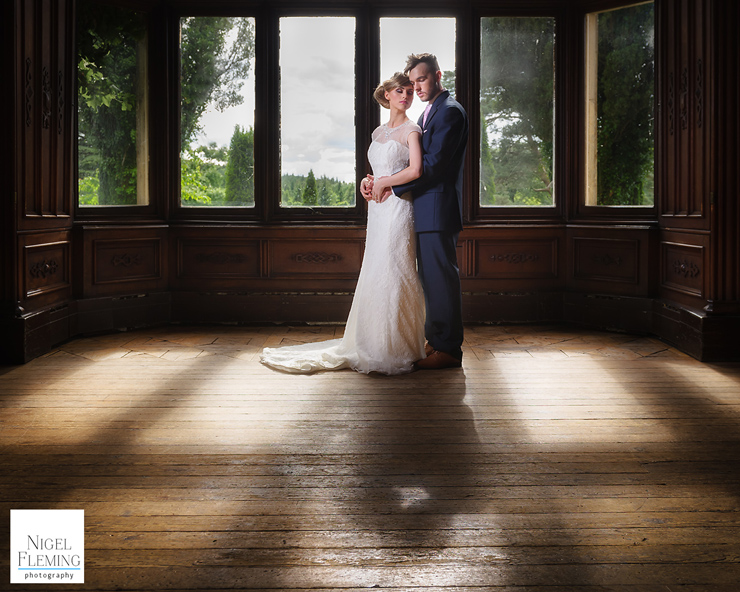 We then moved back indoors and our bride was ready with a change in dress, hair and makeup.
We set this up in another one of the feature rooms within Parkanaur Manor. This is the largest bay type window in the house and has some great potential. Shadows on the floor formed a major part of the composition, though not all photographers were lucky to get this as the sun darted in and out of broken cloud, so the shadows disappeared without warning.
[hr]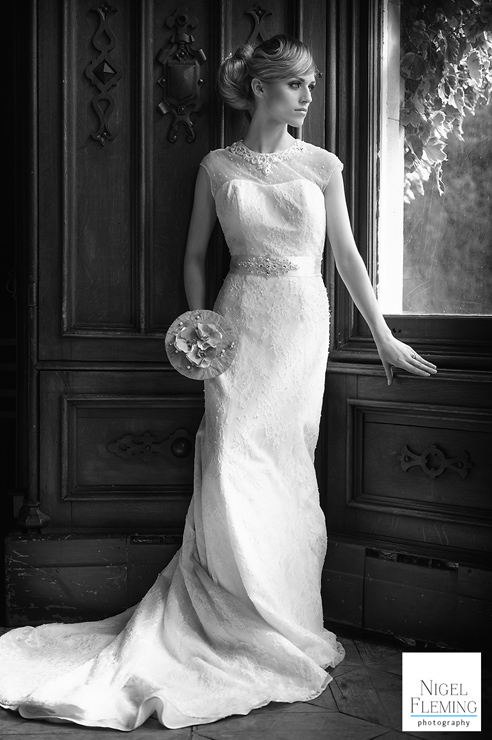 This is the same window and using the left hand side with its detailed wooden shutters This was simply natural light. The light worked particularly well with the dress and James bridal hair styling.
[hr]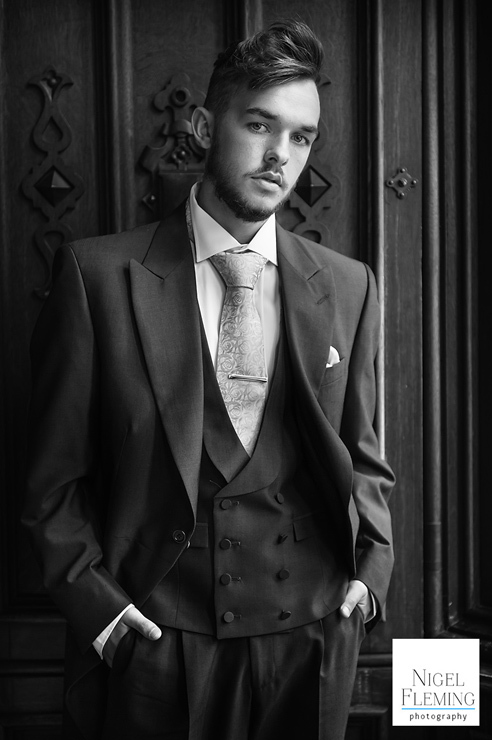 This is exactly the same as above for setup and worked great for a groom portrait.
[hr]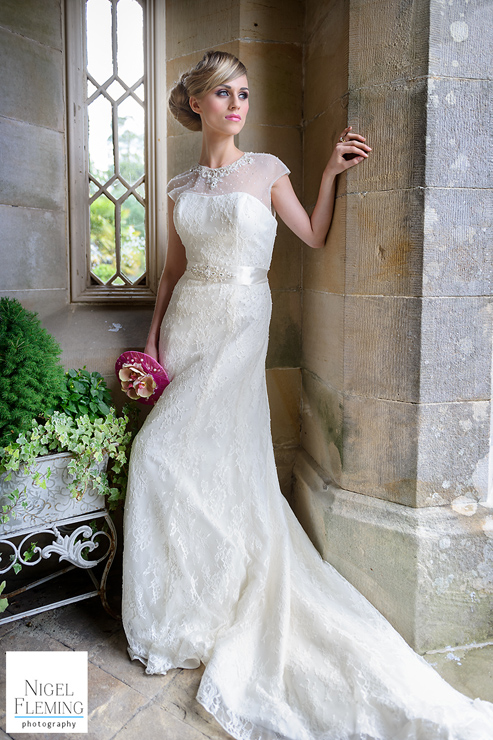 We then moved to the front door and did a mix of natural light and some off-camera flash. I liked this natural light photo inside the front outer porch of Parkanaur Manor.
Thanks to Janice Watt of The Flower Studio – Dungannon for her contemporary bridal bouquets.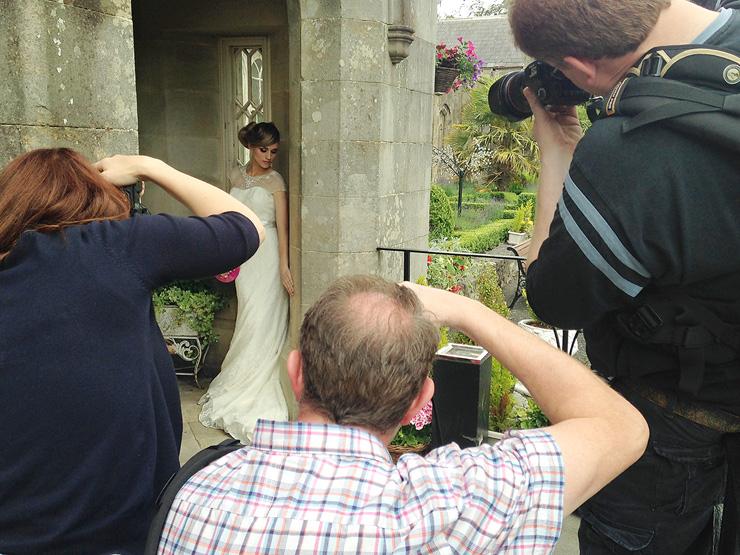 Here's a quick iPhone snap of behind the scenes.
[hr]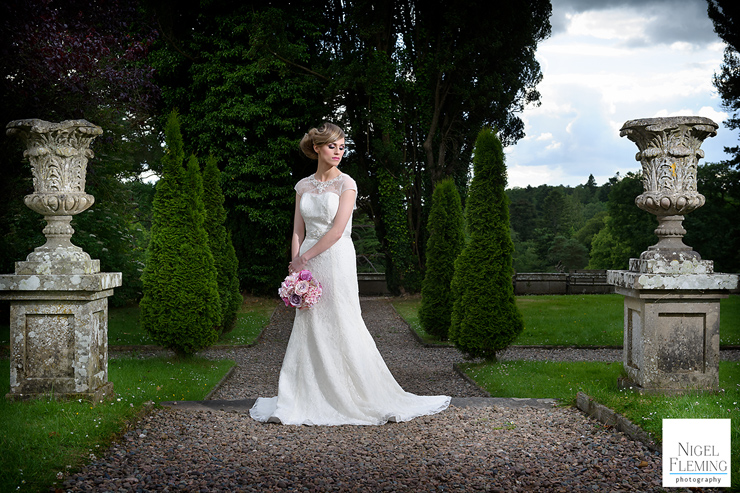 This was off-camera flash setup across the front of the house.
[hr]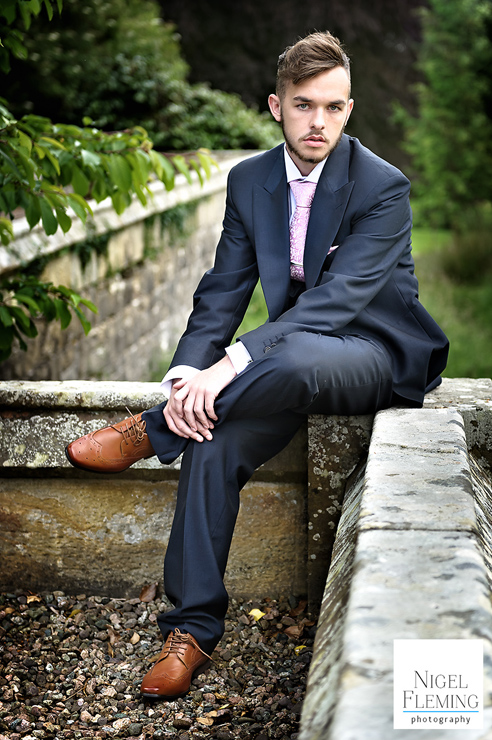 Moving around the side of the house and a natural light photo of the groom.
[hr]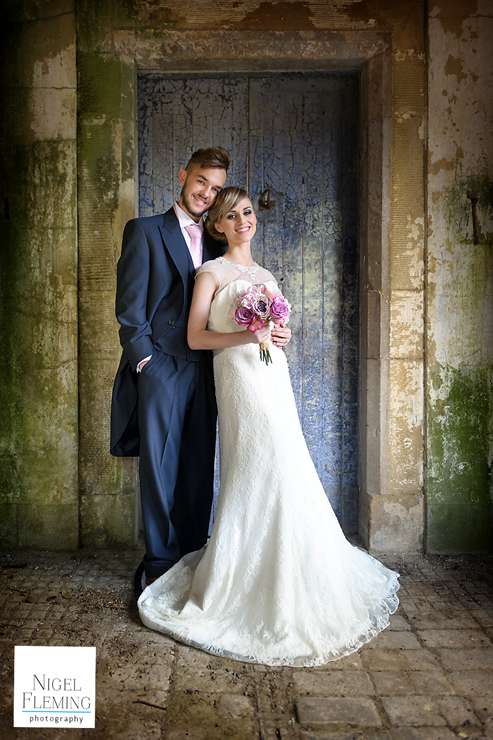 This was our final location for the day. I discovered this spot on my previous visit to Parkanaur. Its 'hidden' in the lower corner of the carpark and I really like its rustic feel and the flaking blue painted doors in the sandstone doorway. The natural light here is great.
[hr]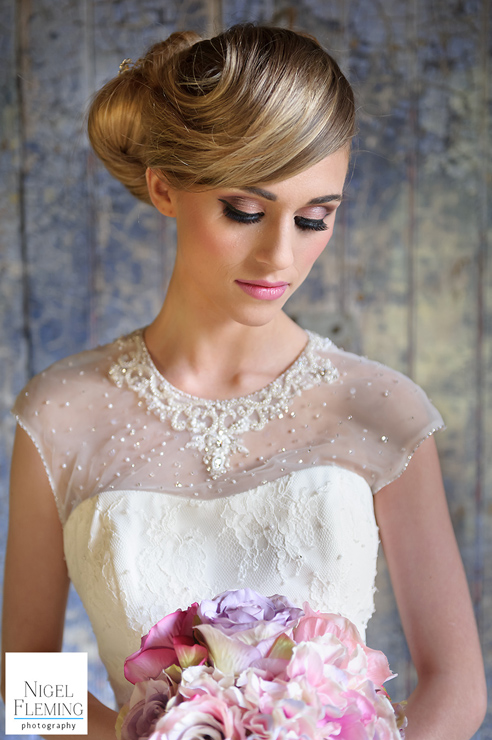 A tighter portrait of our bride with the flaking painted doors as a background.
[hr]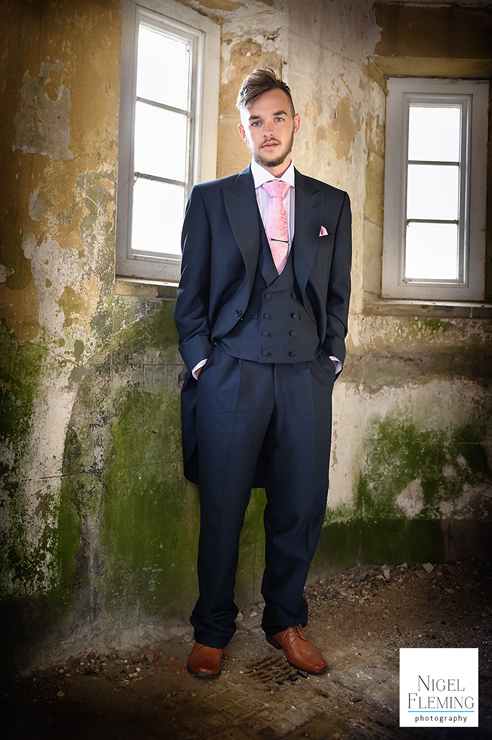 A natural light groom portrait to finish and this is the opposite side of the doorway above. This is a very small area and there was only space for one photographer at a time to step in for their turn for photos.
[hr]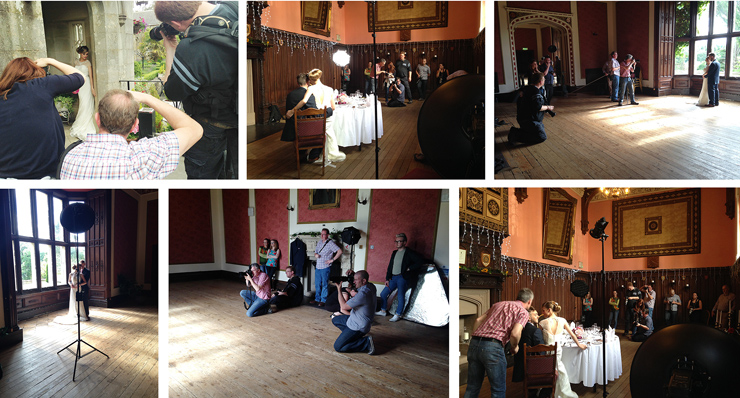 A selection of iPhone behind the scenes snaps.
Thanks to a great group of photographers who attended the day.
[hr]
I have another Bridal Workshop Day at Parkanaur Manor on 10th August, though this is fully booked. I do hope to be holding at least one more of these before late Autumn when the shorter evenings will set in. If you would like to register your interest to attend one of these workshops please click here.