Earlier this week we made the trip over to Donegal, and to Murvagh Beach to be precise.
I've stopped off at this beach a few times previously, mainly on my way elsewhere within Donegal, and the expanse of beach relative to the very few people who ever seem to be on it makes it an attractive proposition for some photography.
On this occasion we'd planned it with Adriana and the weather was reasonably in our favour. The biggest problem though turned out to be very strong winds coming in off the sea. Fine beach sand and photography gear is never a good combination, and I can verify this as on one of the setups I didn't zip my gear bag back up and I ended up with what felt like half the beach worth of sand in it!
I used this as an opportunity to do some off camera speedlight work, though I mixed in a little natural light work too.
Here's some of the photos…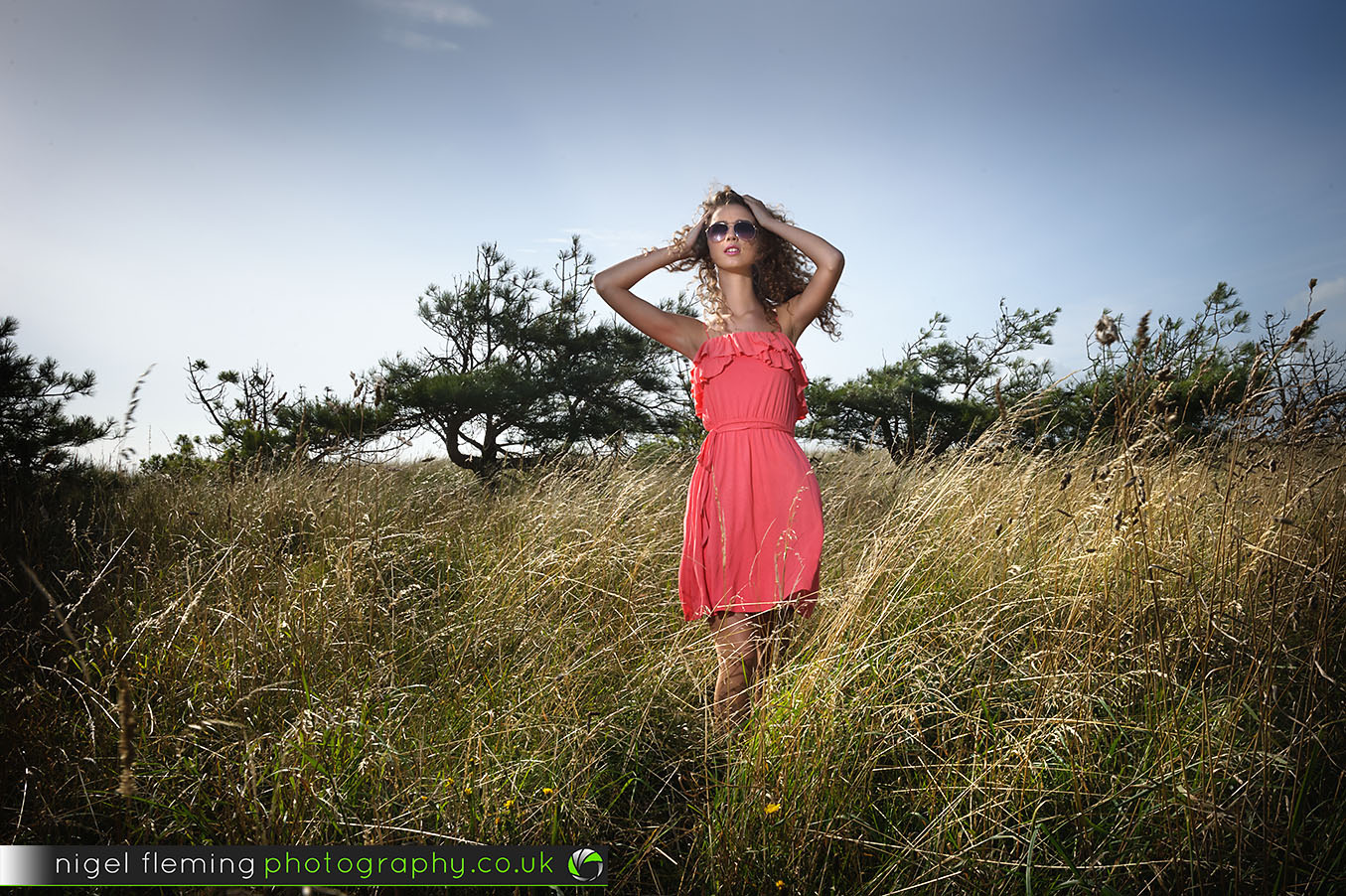 This was one of our first setups of the afternoon as we made our way down to the beach.
This was incredibly strongly backlit with a full sun blazing down. For the technically minded photography people, this was f18 in an attempt to extract any detail from the sky, and subsequently meant flash at full power to provide enough light on Adriana.
As you scroll down through these photos you'll notice Adriana's hands on her head quite a bit. This was the only way to keep any element of control in her hair and prevent it from blowing right across her face on almost every occasion. Very strong wind coming from the same direction as the sun is never a good thing!
[divider scroll]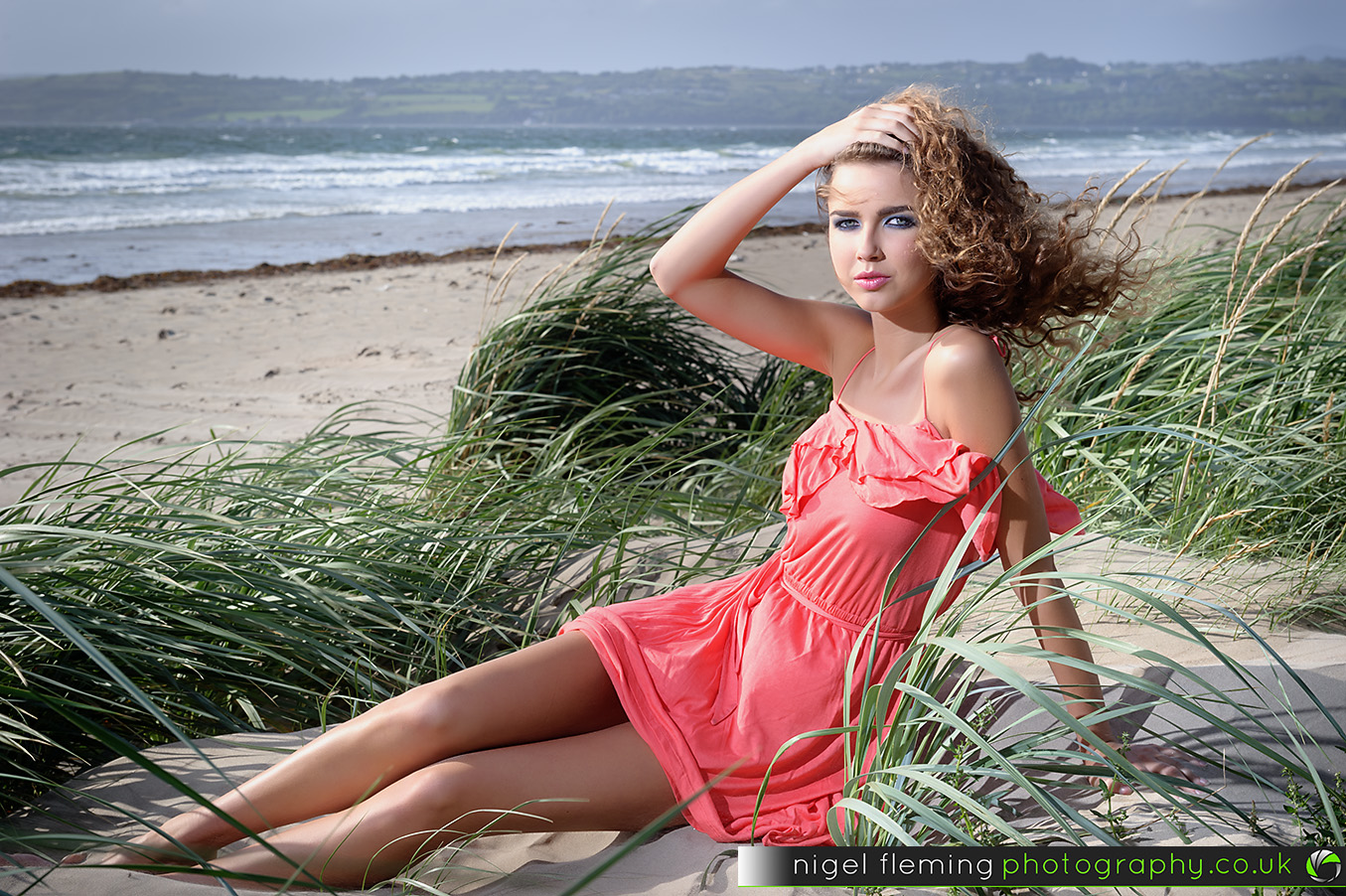 This was one of our first setups on the beach. As per the image above the exposure was high and the wind was strong.
[divider scroll]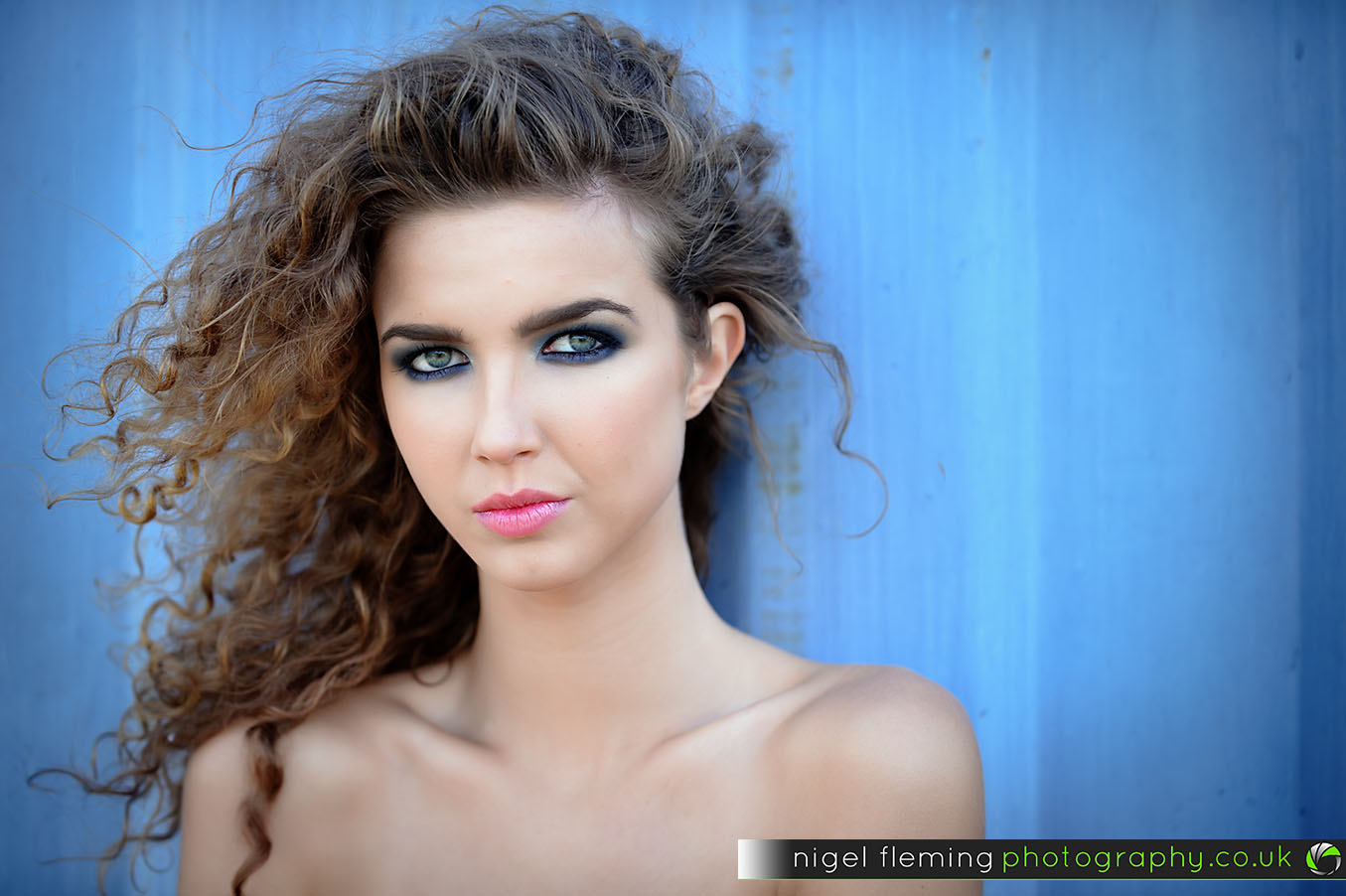 Catherine had given Adriana's eye makeup a strong blue look. The background here was an old tool hut recycled into a beach guards hut. The back of it provided perfect shade for natural light photography, and of course the idea was that the colour complimented the eye makeup.
Off-camera speedlight photography work will most often result in full length photos and very often have the model placed in the environment of the location being used. I've learned over the years that if a makeup artist has gone to the trouble of giving you a model with professional makeup, then they will appreciate at least one good closeup photo to showcase their makeup. Better to keep the makeup artists onside 🙂
[divider scroll]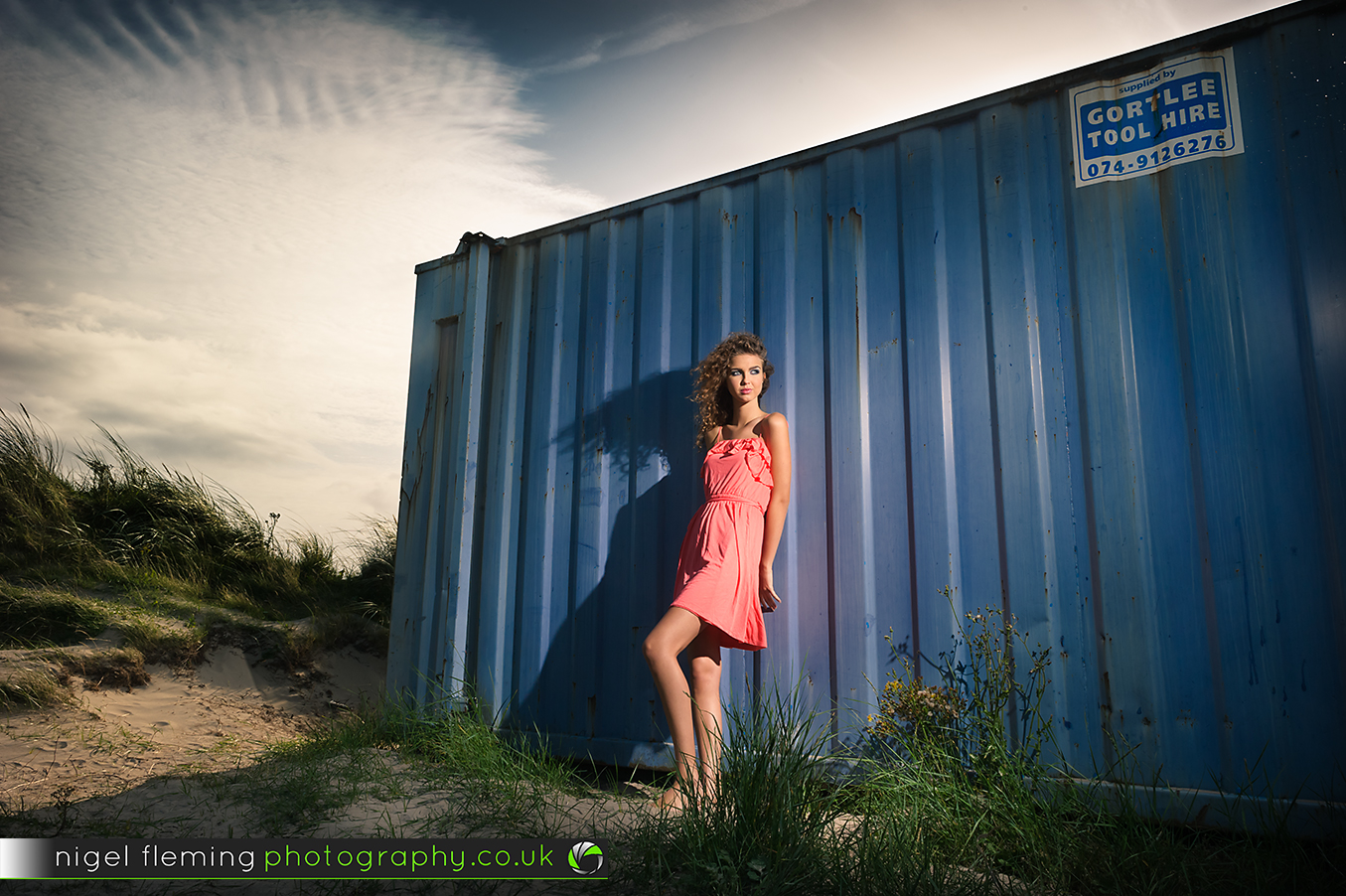 This is the same blue hut as above and just a few minutes after. A very different lighting approach though with off camera speedlight now in use.
An indication of just how strong the sun was can be seen in the top right of this photo. I had the sun 'hidden' just below the line of the top of the hut. I raised my camera on one occasion to allow the sun to flood over the top. This resulted in a completely washed out image full of unusable flare.
[divider scroll]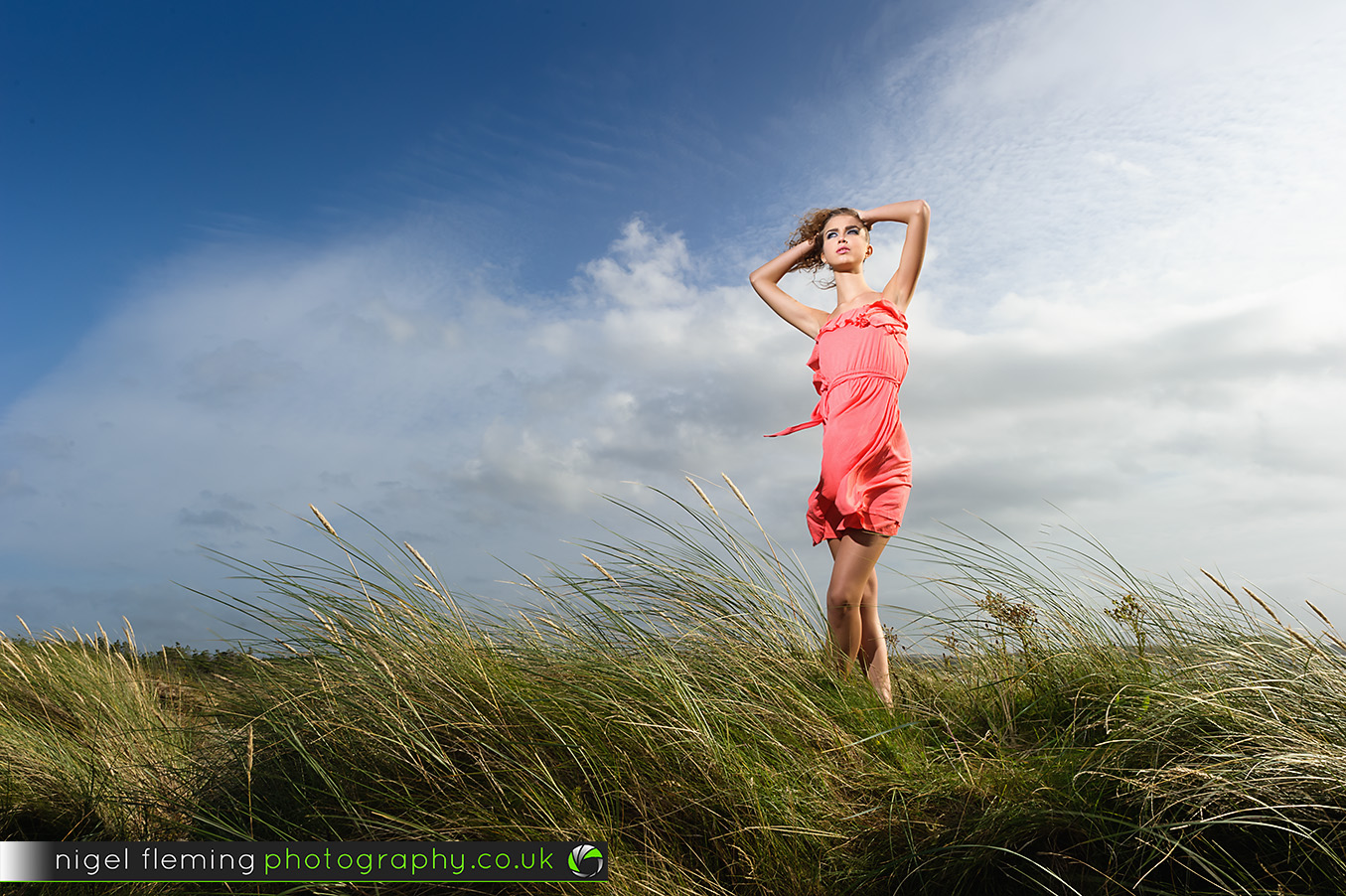 Just nearby there was a raised mound of sand and grass. I wouldn't really have called it a sand dune because it wasn't that nice to look at! This was quite an elevated location and inevitably the wind was even worse up here. It was also a big reach to get the flash into such a high position.
Again this was a big exposure as shown on the image below.
[divider scroll]

This is for comparison purposes. This shows exactly the work being carried out by the flash. Sometimes as on this occasion the output from a simple single speed light very pleasantly surprises me. The exposure here was a massive f18. Needless to say my Nikon SB-800 speedlight was on full manual power for this.
[divider scroll]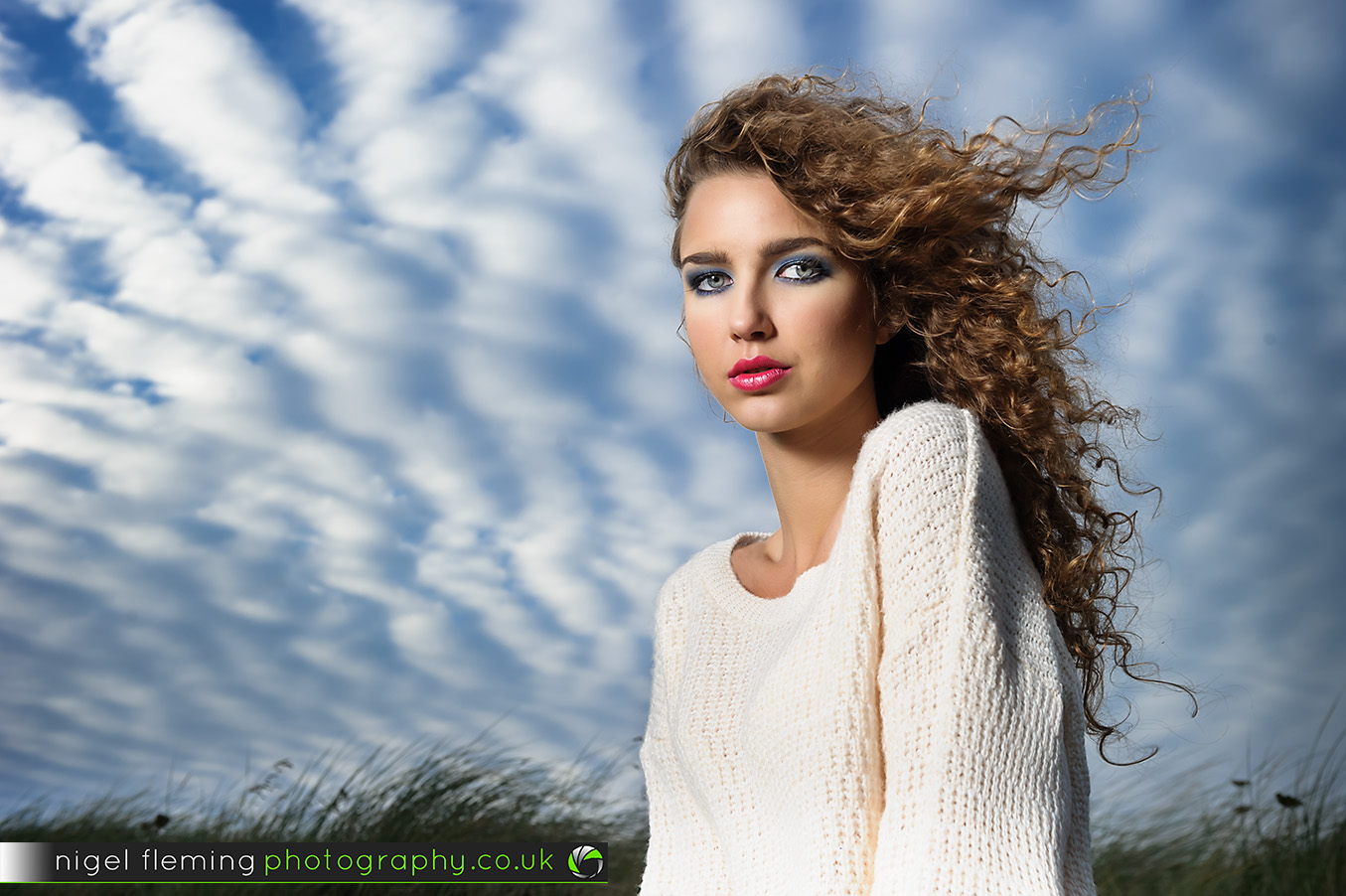 It clouded over in the late afternoon and even threatened to rain. This was an opportune time for a break in a nearby restaurant to see what the weather was going to do.
Thankfully it cleared a little and when we returned to the beach we has this detail in the sky. I proceeded to capture as many setups as I could over the next 15 minutes before it disappeared. As you can see looking at Adriana's hair though, the wind hadn't settled at all.
[divider scroll]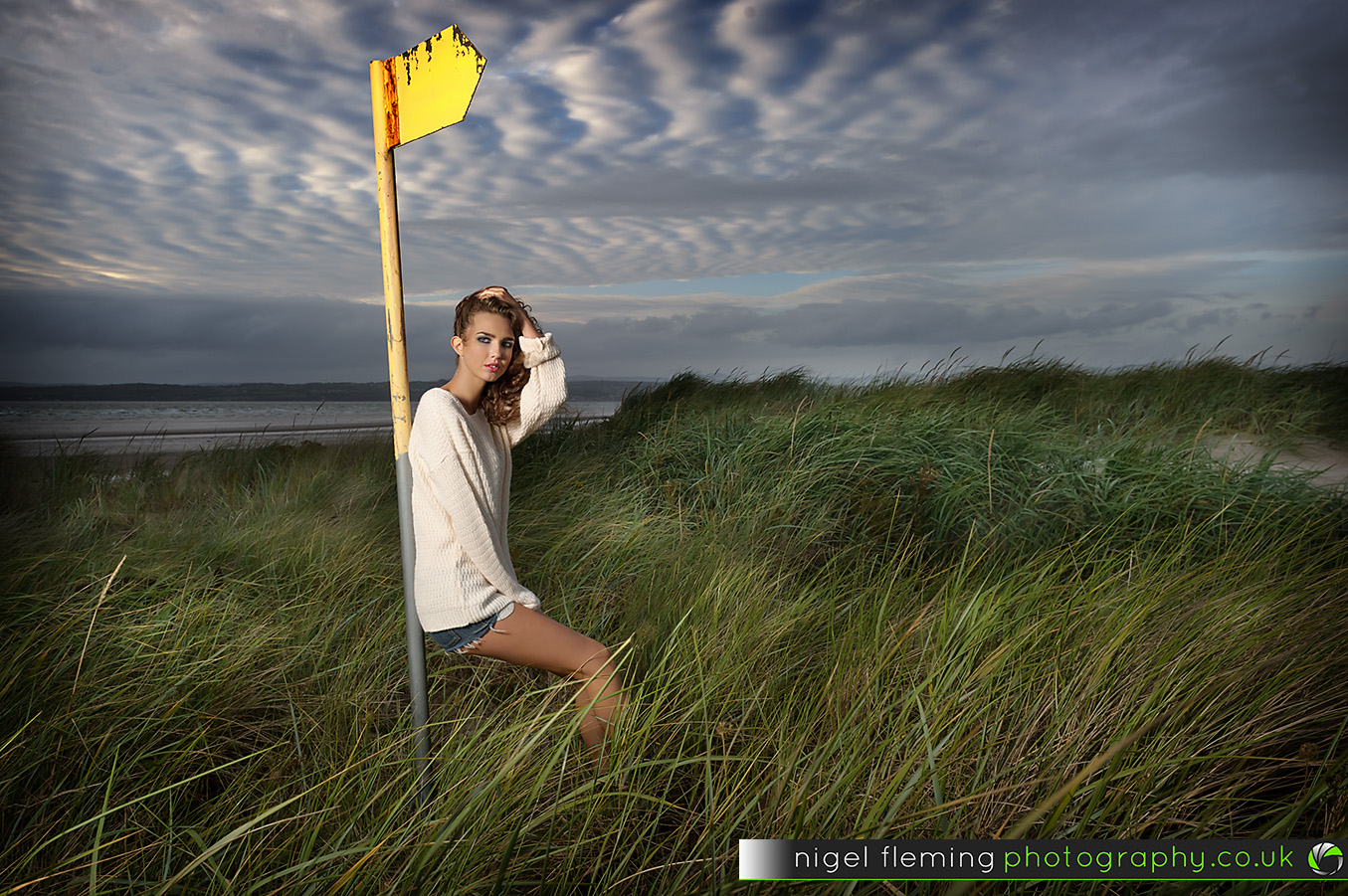 Yellow and blue together is always a great combo. We had to do a bit of manoeuvring though to get into position to get this photo.
[divider scroll]