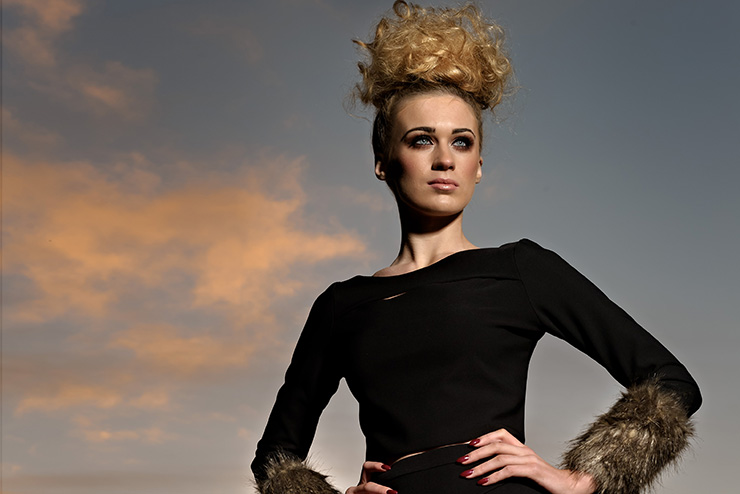 Firstly an apology for the lack of blogging over recent weeks, due solely to the hectic run up to and over the Christmas period.
This was a workshop held at the end of November, and as usual it was great to have such a talented and enthusiastic group of photographers.
Ive a few people I need to thank for all their help on the day and in the large amount of preparation leading up to it.
Special thanks to models, Aimee and Wiktoria, professional hair styling by James Britton, makeup application by Catherine Fleming MUA,  camera and flash assistance by Michael Carbery, and excellent behind the scenes video by Gerard McCarron.
Thanks also to Melissa of M Couture Evening and Occasional Wear for supply of a bridal dress and all the glamorous dresses, and Janice Watt of The Flower Studio – Dungannon for the bridal bouquet.
Here's some photos and photography talk from the day. (Please click on any image to see it slightly larger)
A comparison photo to start with.
The day started out with a bridal look on model, Aimee. While it was bitterly cold outside the sun was out in force. The front of Parkanaur gets full sun most of the day and while this deep window reveal is great for photos, the strong direct sunlight can be a concern. The photo on the left shows the range of exposure from extreme highlights to shadows, the shadows reduced here by a large reflector. The middle photo is an exposure to greatly reduce the highlights, though they're still quite strong on the lower part of the dress. This was the compromise exposure I went with though, and the photo on the right is with off-camera flash added.
Some photographers achieved fantastic results equal to off-camera flash by using their on-camera flash and bouncing it off a nearby neutral surface. While I don't photograph weddings myself, I completely understand the pressure of time constraints on real life wedding photographers, and in most cases using off-camera flash isn't an option. For that reason it was great to see such high end results being achieved by attending photographers using their own speedlights on-camera in a quick and easy way.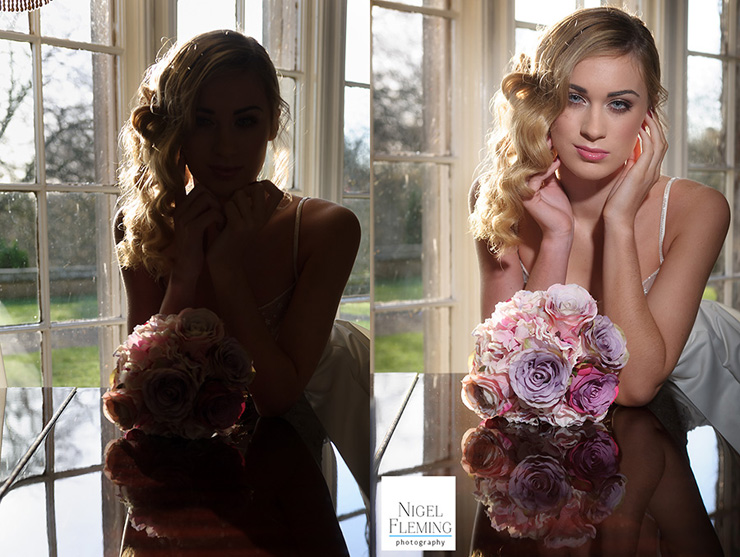 Another comparison before and after flash. Ambient exposure was quickly set for the backlight (window light and hair), and this time a bare unmodified flash was used from the front to simulate a speed light.
---
From then we moved into Parkanaur's Ballroom.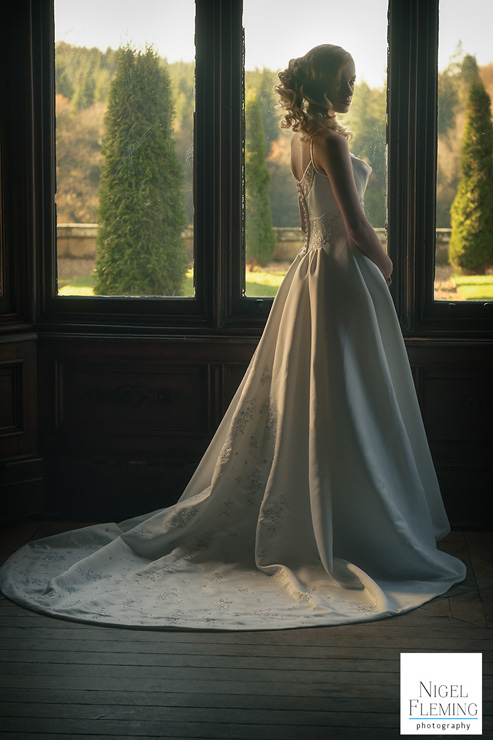 While this was set up for off-camera flash, technically this is a natural light one taken while others were using the remote flash trigger.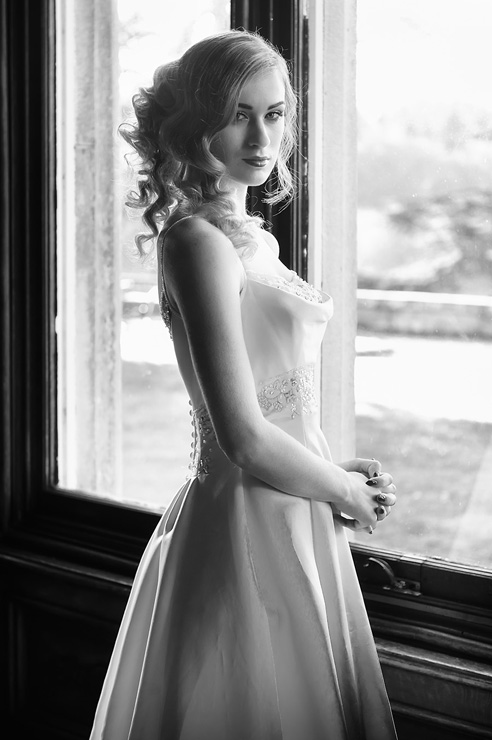 As above this is another natural light one from the same window location, but from a slightly different angle.
---
Thanks to Gerard who not only attended on the day to make a behind the scenes video, but also brought along a second model. Thanks to Wiktoria for coming and for doing her own hair and makeup.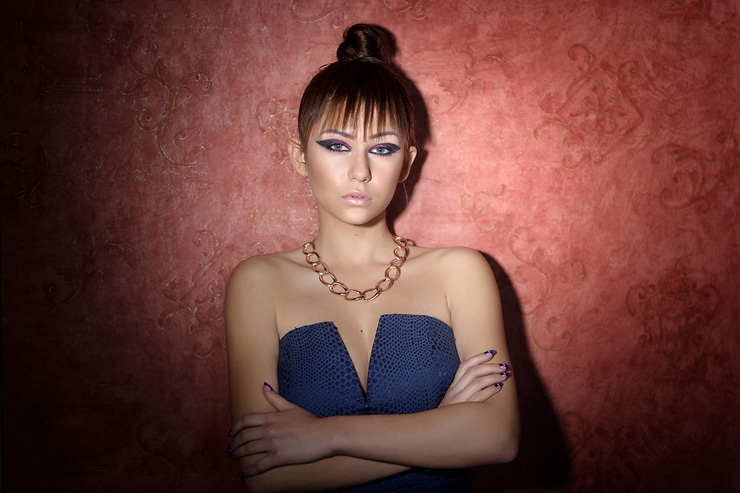 While Aimee was having her hair and makeup changed from bridal to a more fashion look, Wiktoria provided great modelling skills, still in the Ballroom.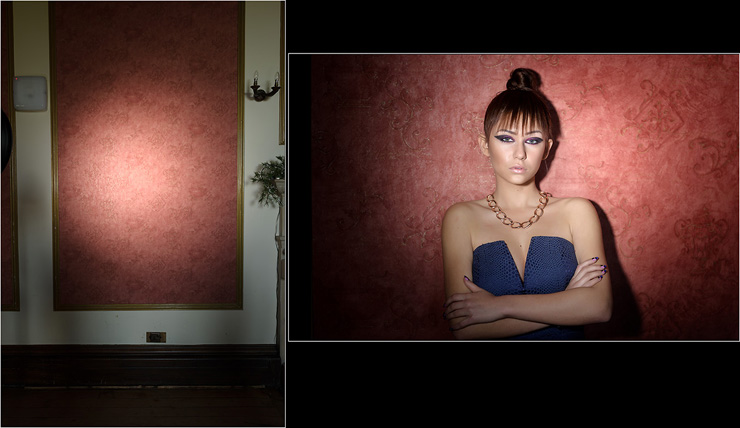 Here is a before and after the model is brought in to the scene. The Ballroom is filled with large amounts of natural light thanks to a very large bay window, however the ambient light exposure is dropped in camera, a controlled and directional pool of light created with off-camera flash, and then the model is added. This yields a much more dramatic picture than would have been otherwise available using a room which was filled with flat natural light.
---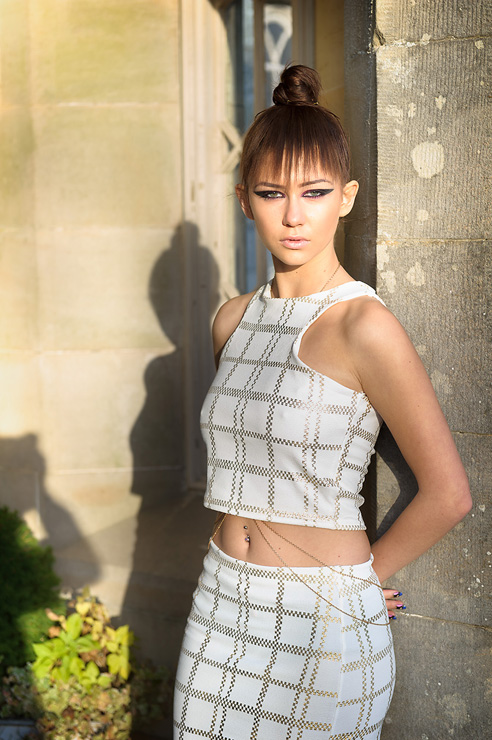 We moved outside and left the flashes to use just the strong full sun at the front entrance to the Manor. The shadow behind shows just how hard the light from the sun was. The bun in Wiktoria's hair though made for an interesting shadow. Wiktoria was able to pull this series of photos off without squinting into the sun. Another photographers shadow of their arm and camera crept into my composition bottom left 🙂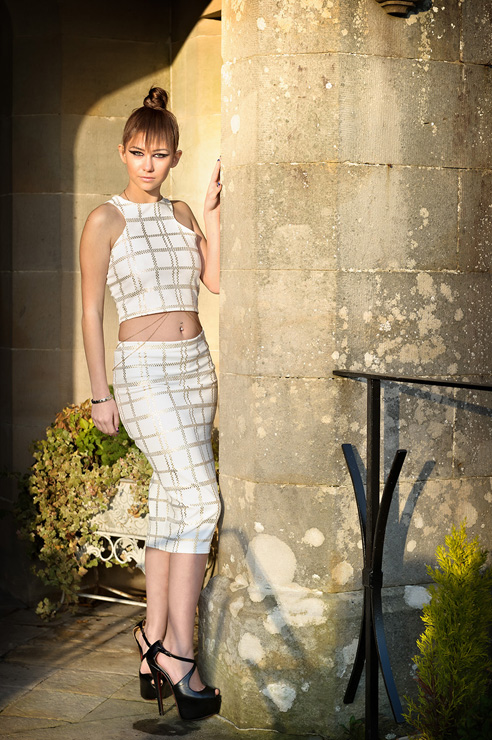 Same as above but full length and composed to place Wiktoria's upper body within the shadow framing being created by the arched wall of the outer porch-way.
---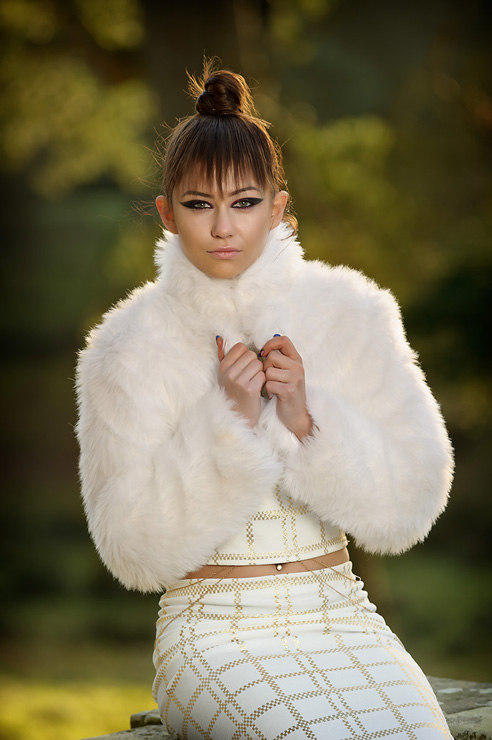 We needed to get the flashes out again as it was an off-camera flash day after all.
If the sun is out at this time of day then this is an area at Parkanaur I know benefits from great backlight. It allows framing into a mid toned background which is even better if captured at a very shallow depth of field. Once the ambient light exposure was set it was only a matter of placement of a fill flash from the front to balance with the back light exposure.
---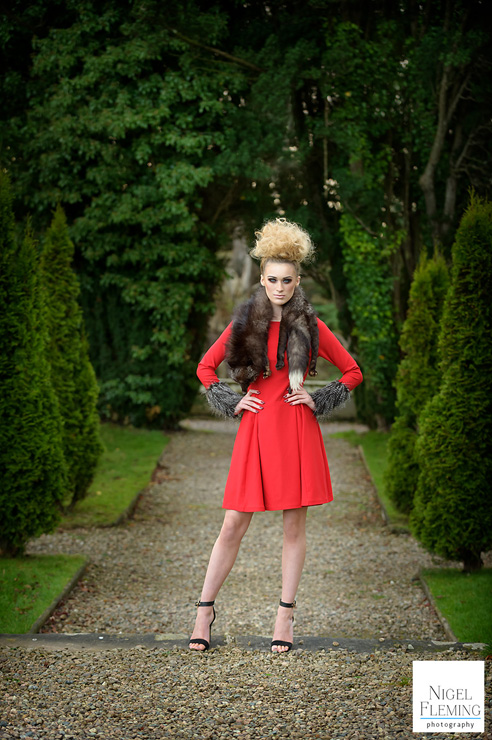 Aimee with a change in makeup and hair styling. This was another off-camera flash setup. Here the ambient light exposure was set so as just to have the off-camera flash as fill.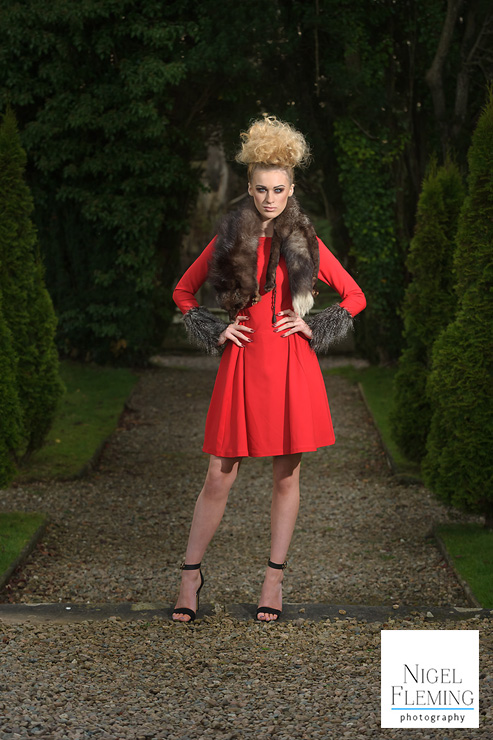 As above, but the ambient light was dropped in exposure in-camera and the flash adjusted in power accordingly. The flash was now contributing much more on Aimee and a more dramatic result than above.
---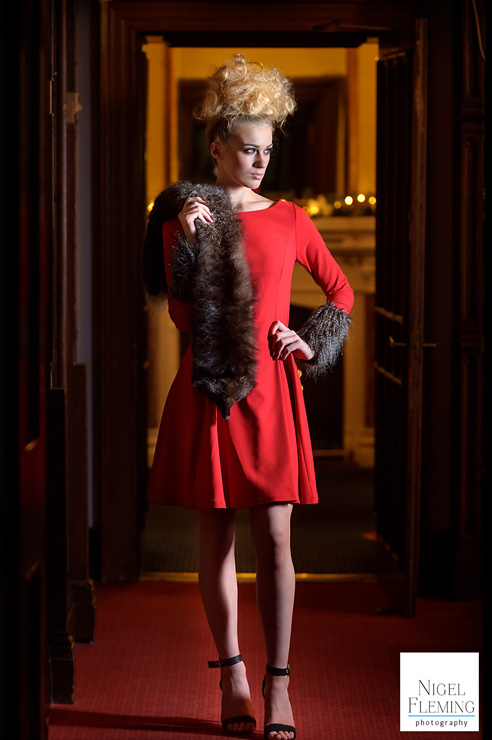 Back inside the Manor and light levels were getting extremely low in here. I had difficulty convincing some photographers to select ISO 1600 and a 2.8 aperture, but that's what was needed to render any decent level of detail in the background. An off-camera flash was then added.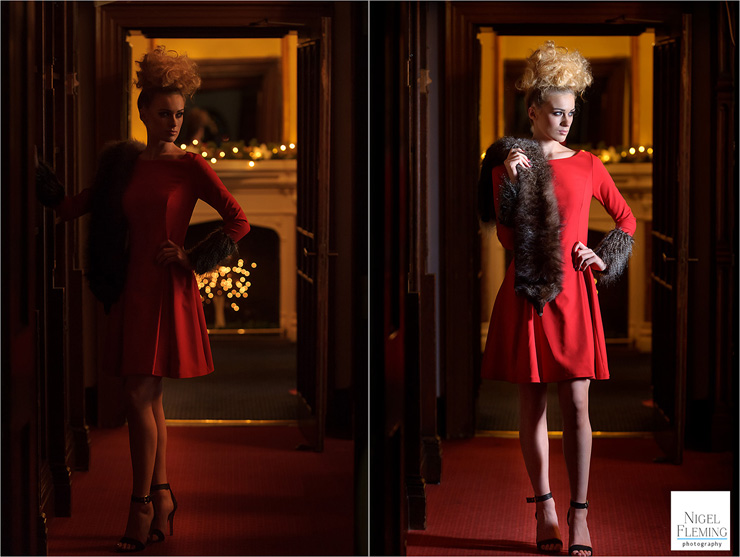 Image left is the ambient light exposure before flash which was ISO 1600, f2.8 and 100th sec shutter on a 70-200 lens. This is a corridor space spanning across three rooms inside the Manor House. The image on the right is with off-camera flash added.
---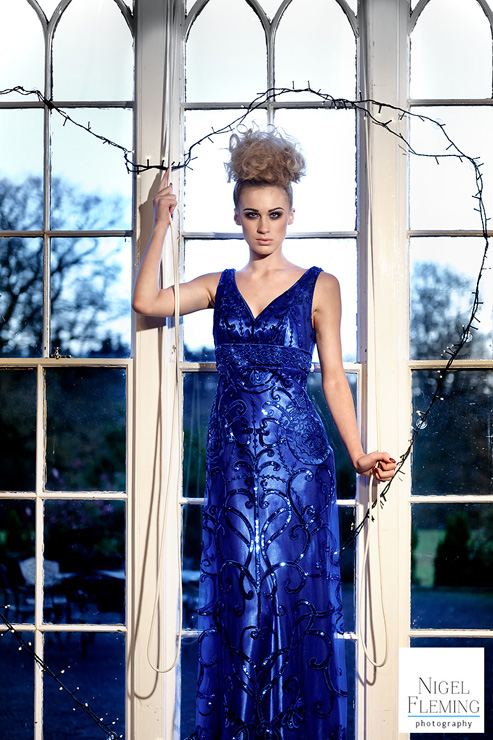 Aimee then changed into this fab blue dress from M Couture Evening and Occasional Wear. The purpose here was to demonstrate the use of CTO and CTB gels on the flash and in the creative use of changing the in-camera colour balance.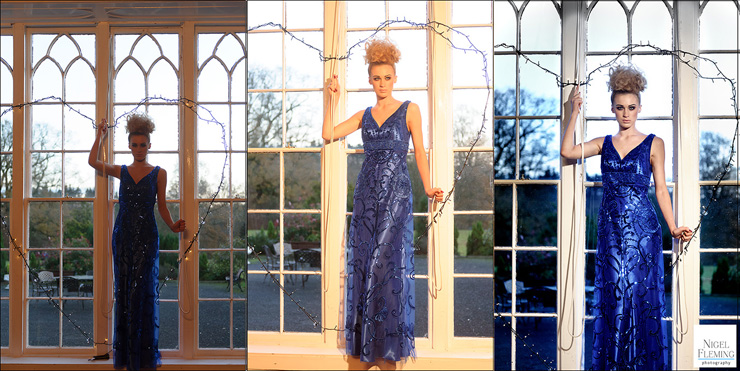 The image on the left is the ambient light only exposure. A slight orange glow can be seen on the inside of the white window frame. This was from table and floor standing lamps in the room. The middle image is with off-camera flash added with a CTO gel. The image on the right is with colour temperature adjusted in-camera.
---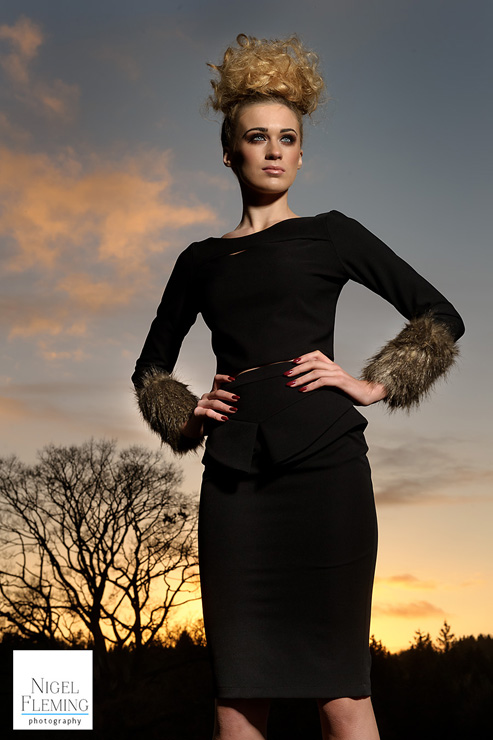 Looking out the sun had set and there was some colour in the sky, so we decided to dart out quickly and try to do something to use the colour. This was the result. An unmodified off-camera flash to give a very hard light. Positioning of the flash was very important for this.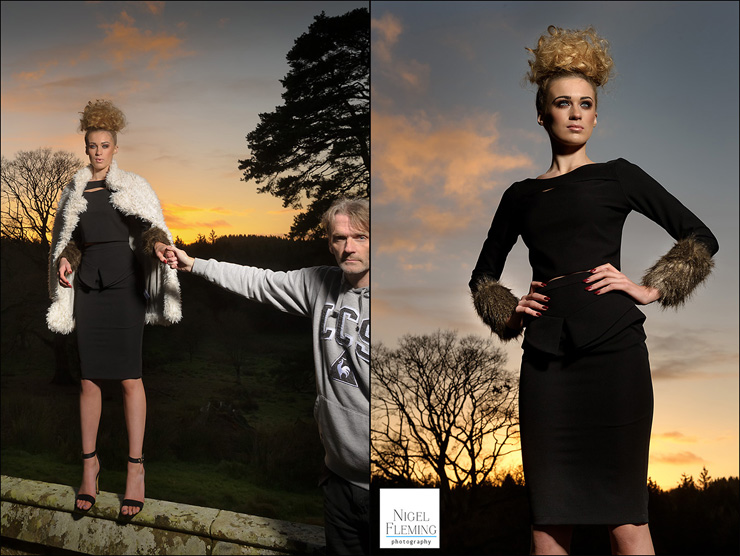 Both Aimee and Wiktoria were photographed in this setup, and here Michael was helping to steady Aimee up on the wall. I wanted Aimee elevated to allow her to be framed against as much of the colourful sky as possible. It's worth noting there was a big drop on the other side of this wall, and the wall itself was covered in very slippy moss and ice. No mean feat in heels for both models.
---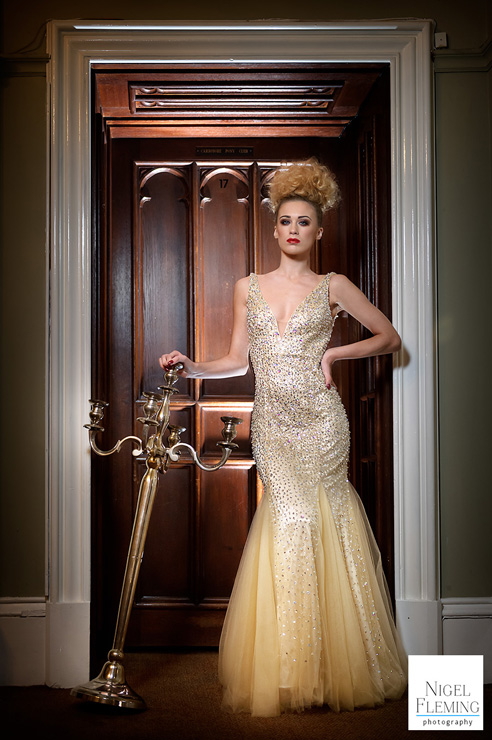 Back inside and we had time for one final setup before finish. It was as good as dark at this stage with only low house interior lights on. ISO 1250 and an aperture of 2.8 was needed here. Two off-camera flashes were used, one from the front which was modified to be soft, and one behind Aimee to illuminate the deep reveal of the doorway. I used a low angle in composition to get the detail in the head of the doorway panelling. A low angle also worked with Aimee's pose with the candelabra.
---
I hope to be holding another workshop at Parkanaur Manor House on 8th February. With a couple of places prebooked, I currently have 4 places available.
The day will place emphasis on creating high editorial standard imagery using both ambient light and off-camera flash. Fashion will be the theme with a professional model in attendance with professional hair styling and makeup. As light drops in the late afternoon we will spend time indoors looking specifically at lighting in extremely low lit interiors.
Light lunch is included and bring your camera for full participation. We will fit in as many varied steps as time allows throughout the day.
The cost for the day is £125. Please message here to book.