Coming into September annually I start to think about reducing the number of off-camera flash workshops I do, and prepare to reintroduce a winter schedule for Studio Lighting Workshops. While I'd hope to fit in another off-camera flash day before the season end, I may favour doing it as a creatively/advanced day at Parkanaur Manor. If anyone is interested in this please get in touch as four places are pre-booked.
This was from last Sunday when I had an Introduction to Off-camera Flash Workshop Day. We had a great group of photographers, ranging from keen hobbyists to professional photographers, and those who were currently using off-camera flash to those who hadn't tried it yet.
I was delighted to have Aimee as model for the day and makeup was by Catherine. Thanks to both for their skills and professionalism.
---
The day started in the usual manner with a brief discussion to assess everyone's current skill level and what flash gear, if any they owned. From there the first half of the afternoon was spent looking at all matters relating to off-camera flash in a practical way, and some live demonstrations about how it all works in the studio. From there and following a coffee break we collected together our gear and headed out around the Linen Green Complex to fit in as many setups as time allowed.
I use the Lencarta Atom flash system for all off-camera flash workshops now. This allows for ultra reliability with no technical issues, plenty of flash power, full manual control of the flash from the photographers own cameras, and cross-platform simplicity whether a photographer is Nikon or Canon.
Here's some photos from the day…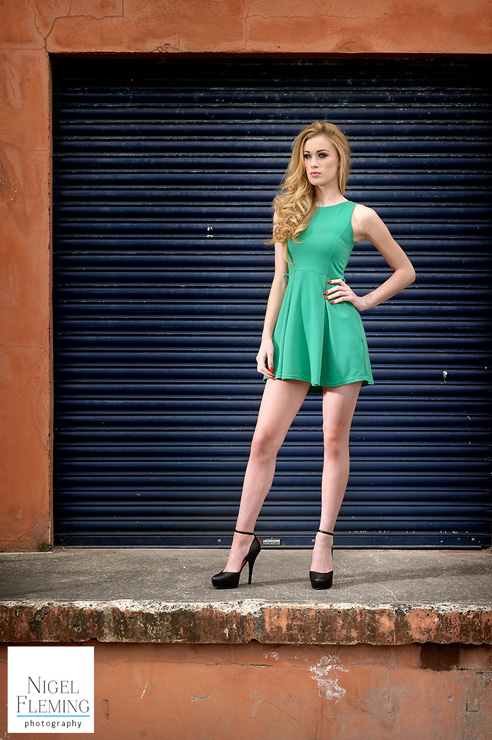 Our first setup of the day was a very simple one speedlight from camera left. The light was modified to soften it slightly. This is a well used loading bay just around the corner from the studio in the Linen Green's 'working car park'. Aimee's green dress worked well with the blue shutter, and a slight under exposure of the ambient light allowed the colours to be more saturated. Exposure on Aimee was from the off-camera flash blended with natural light.
---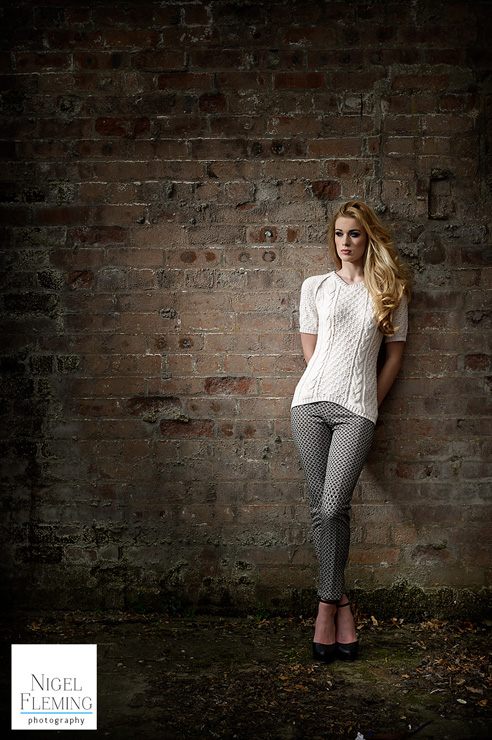 While Aimee took a quick dart back into the studio to change outfits, the photographers and I identified our next location. I asked Aimee to dress in neutral colours to compliment the tones of the brick wall. This was again a one speed light setup, but this time it was in a much more controlled lighting pattern to illuminate Aimee and not too much of the wall.
---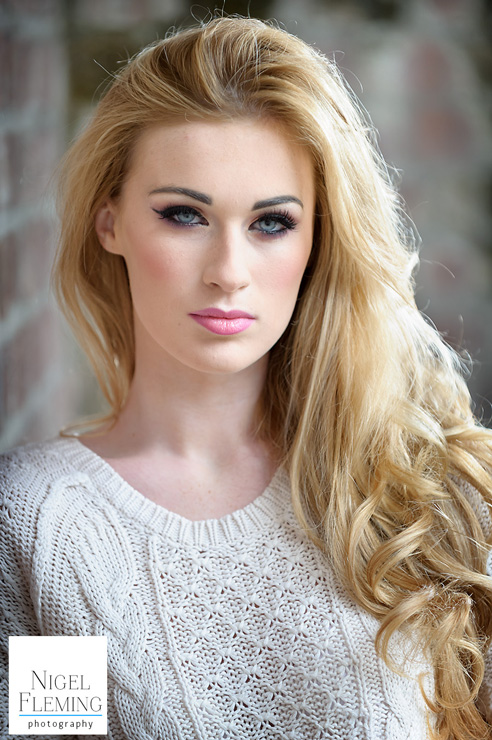 This was a completely organic photo in that it came about on the spot as we worked to progress from what we were doing. One of the photographers was exploring a different angle to the setup at the brick wall above, and it spawned this idea. We had to move Aimee to a more suitable position to make it work though. This was a covered old disused lift shaft, so with no top light the natural light was great. To give it an off-camera flash flavour though a speedlight was brought in as a hair/back light from camera right.
---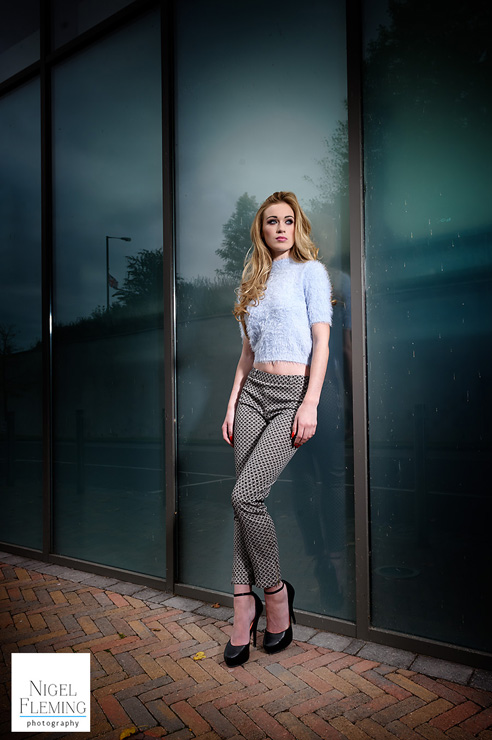 That was us finished with the Linen green's workers car park and we headed across to the retail area. I use this commercial tinted glass wall area regularly. It lends itself well to a dramatic off-camera flash setup.
---
From there it was around the corner a few steps to another regular on the off-camera flash route around Linen Green. I love this terracotta wall because it's in shade all day long and comes alive with hard direct off-camera flash light. It can be summer all year at that wall 🙂
---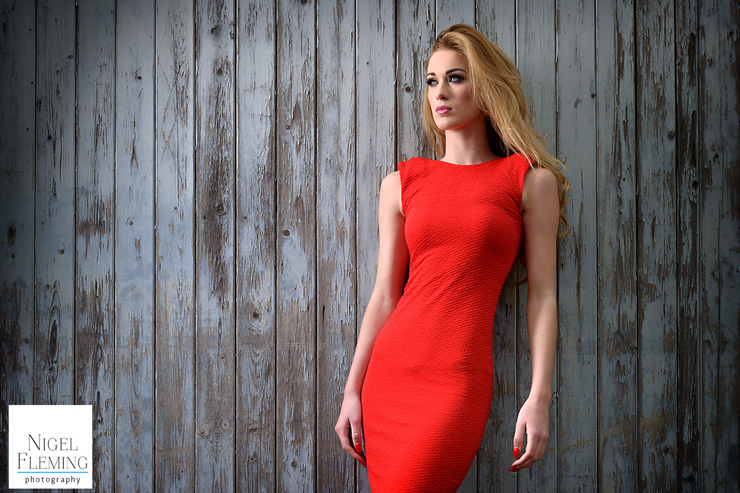 Literally just a few yards on from the terracotta wall is this old flaking painted door. Another regular I use. Aimee has piercingly blue eyes and a few of the photographers remarked how clear they were in the setup.
---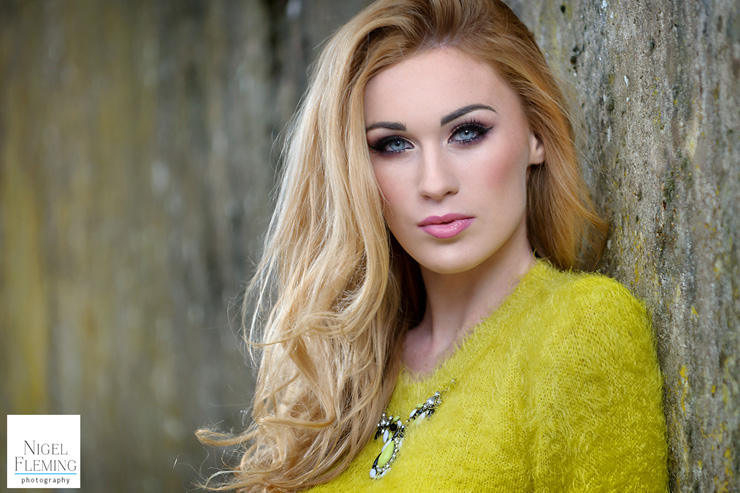 This was our final setup of the day. Aimee's jumper worked perfectly with the natural colours in the wall. As this was the final setup we used two speedlights. One from the front and one from the back as a hair/back light. The photographers were able to control each of these up or down in power to taste and independently of each other from the camera remote for the Lencarta Atom flash units.
---
As I said above, at this time of year I start to think of bringing my off-camera flash to a close and reintroducing my winter studio lighting workshops. Depending on weather and temperature I will still try to fit in more off-camera flash workshop days. If you are interested in a place please get in touch using the contact us section of the website, and also to register interest in the forthcoming studio lighting workshops.