A couple of weekends back I held an Introduction to Off-camera Flash Workshop day here at the studio in Linen Green. We spent the initial part of the day looking at the technical part of flash in photography. This was followed by an 'out and at it' practical hands-on approach where the photographers used their own cameras and tried it out for themselves over various setups.
We had a great group of photographers along and a mixed group in experience. Some were wishing to refresh on what they were currently doing in their own off-camera flash photography, and some were just coming newly into it for the first time. We even had two photographers who made a three and a half hour drive up from Mayo to attend!
Model – Hannah
Makeup – Catherine Fleming Makeup
Hair – James Britton (special thanks to James to stepped in last minute at one hours notice on this)
Here's some photos from the day…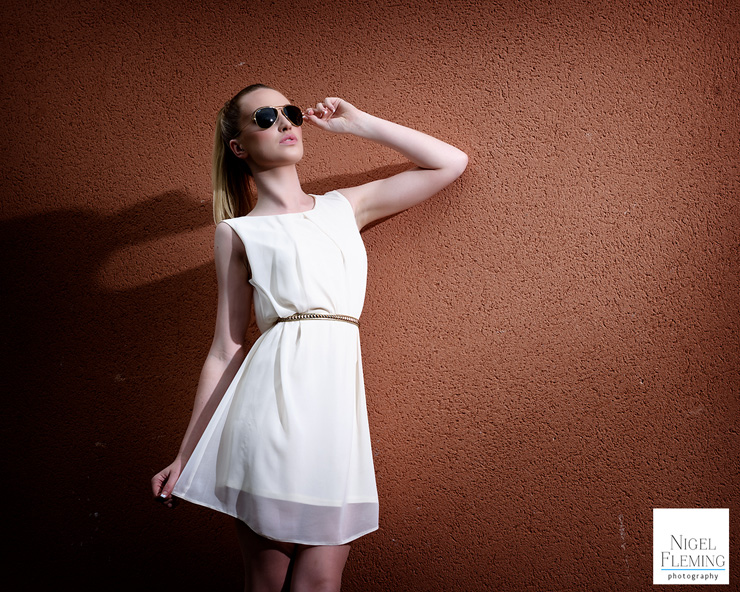 I use this wall regularly. I like the terracotta colour of it which gives a sunshine feel. It therefore lends itself well to off-camera flash, and a pose and sunglasses add to creating the illusion of sunshine created artificially from an off-camera flash. There are several areas of this coloured wall around the Linen Green Complex. I use this one deliberately because its in constant shade at this time of the year, thus allowing flash to be added to what would otherwise be a very flatly lit natural light image. We can create something much more dramatic using off-camera flash.
---
From the terracotta wall we moved on a short distance to the rear of this retail block and another recent favourite spot of mine. Here two off-camera flashes were used. One from the front and another from the back to give a sunshine feel. The flash from the front was used as fill light and created a nice catchlight in the eyes, while the back flash can be seen on Hannah's hair, jawline and shoulder.
---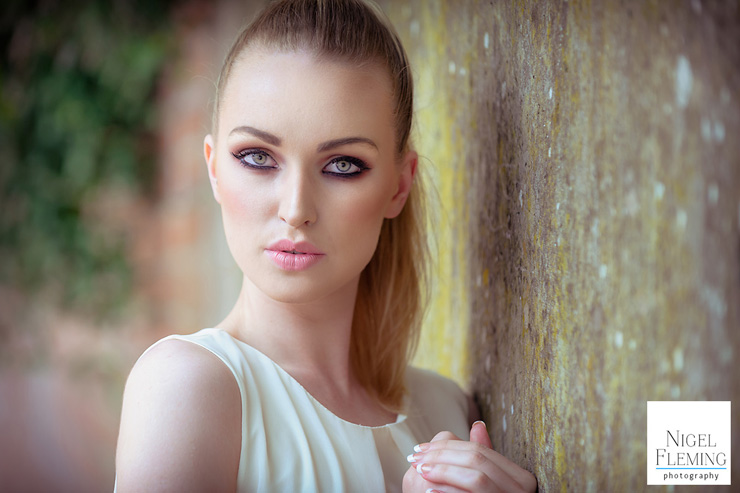 I'd always encourage attending photographers to capture natural light options when they don't have the flash triggers. This is  a natural light one.
---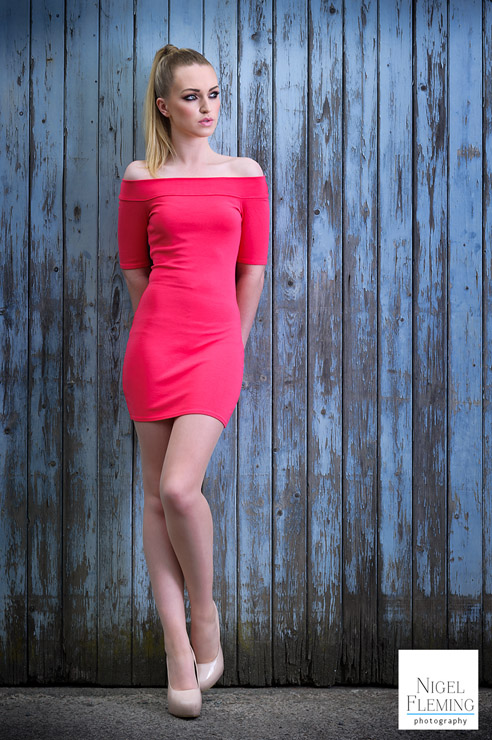 Hannah changed outfit to work in the next area which was this old flaking blue painted tongue and groove door. In reality this door is a pasty, washed out colour, but when exposed down a little it pops a bit more in colour. Here Hannah was lit with an off-camera flash to produce a soft full length light.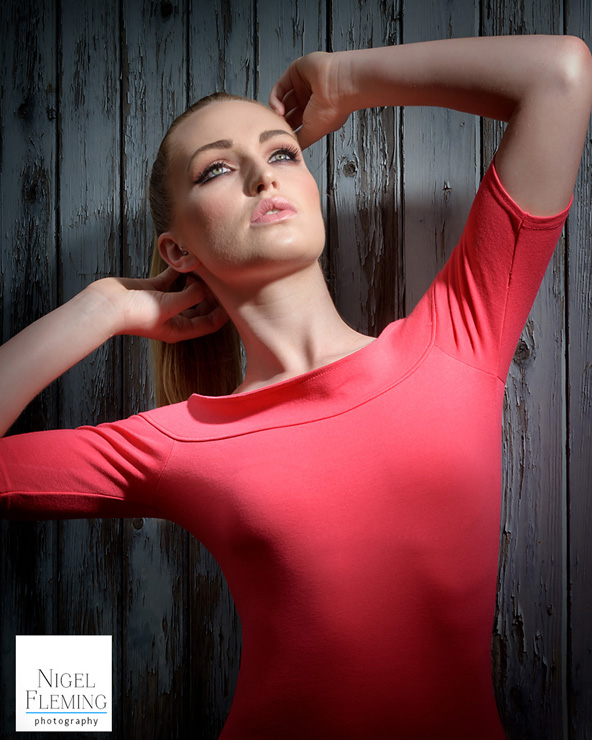 This concept was a suggestion from one of the attending photographers and we went with it. We changed though to a very hard light to make it more striking with harder shadows.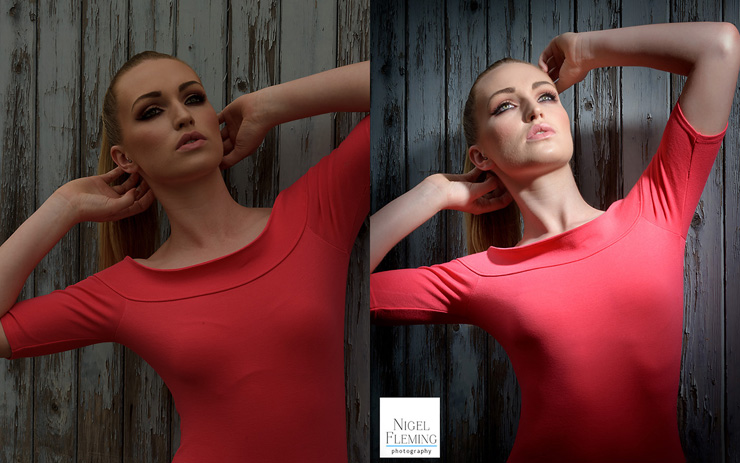 I always try where possible to get a 'before and after' flash version of a setup with my blog in mind, and here is this one. I have to say I personally love hard light for off-camera flash.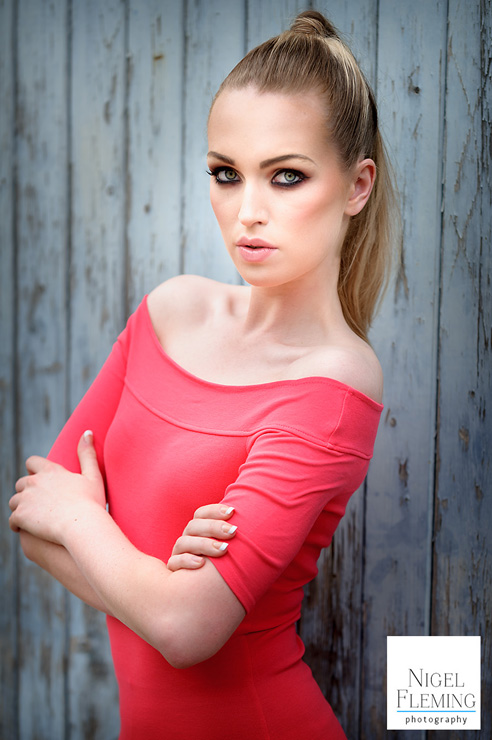 And just for good measure to cover all avenues, here's a natural light one too.
---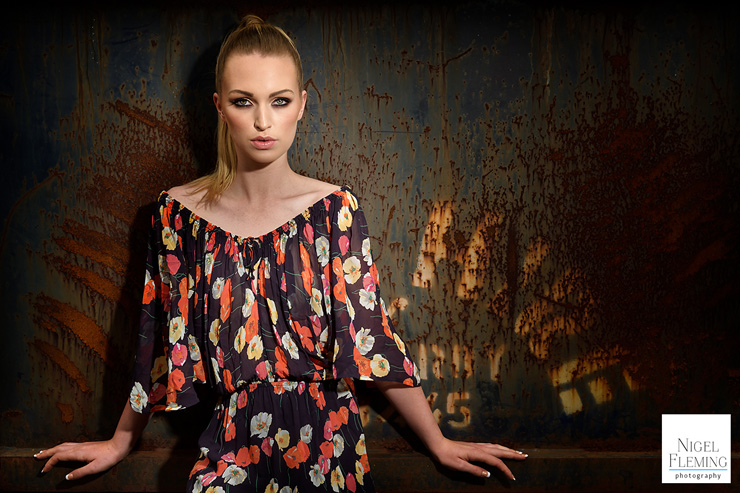 This is the side of the same builders skip as I've used previously, and will continue to use so long as its there. I love it! Sometime I'll take a wide photo to show the whole skip and were it sits at the back of the car park. Hard light from an off-camera flash was used here again.
One relevant point here is that I'm always appreciative of a model's patience on workshop days. Every location has to be set up and explained. Then each photographer steps in and has their turn to photograph it. This means the model has to sit or stand through it all for each photographer, and give them a fresh look each time. Hannah especially so deserved added credit here as firstly it wasn't the most glamorous of locations asking to pose on the side of a skip, and secondly it was completely wasp infested!
---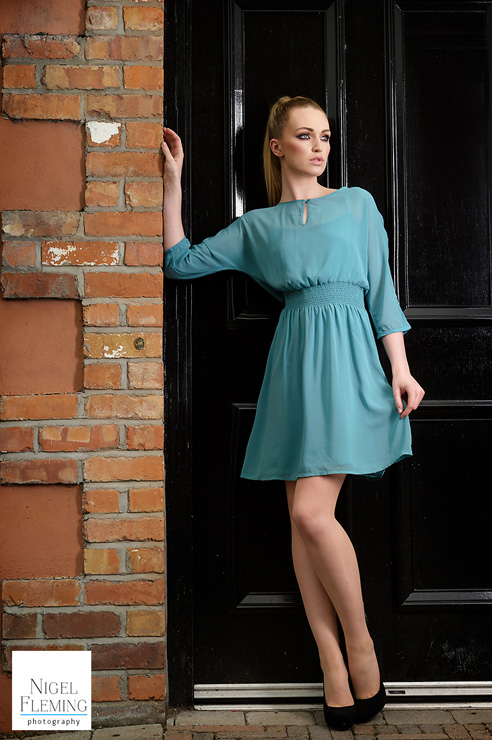 After a quick coffee break in the studio we nipped back out and finished the day with this setup. This was lit with a soft light off-camera flash suited to full length.
I hold regular Introduction to Off-camera Flash Workshops, though these are concentrated more so over the summer months when the weather is good and before moving to studio lighting workshops over the autumn and winter period. I hope to fit in another couple of Introduction to Off-camera Flash Workshop dates before the season ends, so if you are interested or would like more details please click here.
Full details of all workshops offered can be found by clicking here.
The photography studio is located in The Linen Green Complex, conveniently just 35 minutes by car from Belfast and Enniskillen. A wide range of workshops are on offer from off-camera flash speedlights to studio lighting, to Lightroom editing workshops. All levels are catered for from beginner to advanced and group and one to one sessions are available.